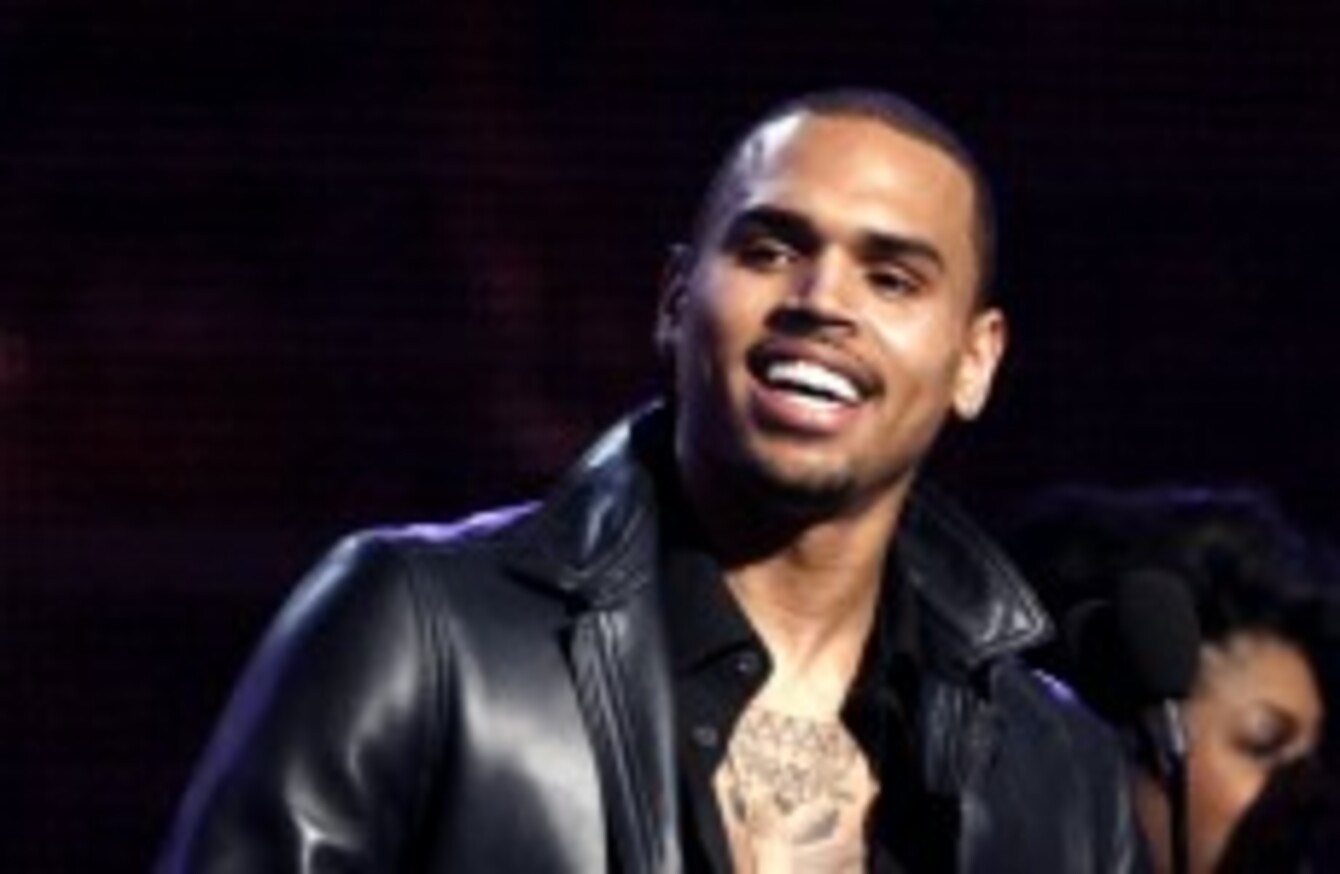 Inexplicably attractive to women
Image: Matt Sayles/AP/Press Association Images
Inexplicably attractive to women
Image: Matt Sayles/AP/Press Association Images
EVERY WEEKDAY MORNING, the Daily Edge digs through the celebrity dirt to bring you the best of it. Here's The Dredge…
Pop's favourite domestic abuser Chris Brown has a new pop star to cuddle: he was snapped apparently kissing Nicole Scherzinger at an LA nightclub while her boyfriend Lewis Hamilton is away driving his little race car.
A source said: "I couldn't believe Chris was being so obvious about it!" because subtlety has always been his strong point. (X17)
Nicole has strongly denied that any lip-locking took place, with a rep saying the photos show "old friends who were trying to talk", and adding: "I guarantee there will be no photos of them kissing." Ahem.
~~~~~~~~~~~~~~~~~~~~~
The Words
Quite raunchy: What Emma Watson believes Fifty Shades of Grey might be. She said she might be open to appearing in a movie of the book that curled toes in suburban book clubs around the world, "if there's interesting character development". So maybe not then. Besides, if she can't even watch the kissing scenes in The Perks of Being A Wallflower, rope bondage might be a step too far. (The Sun, Mail Online)
She's forgotten to take her trousers off. Possibly not the right candidate. (John Phillips/UK Press/Press Association Images)
Poetry: What Kristen Stewart has reportedly been writing to Robert Pattinson in an attempt to win his heart back, amid reports the two have moved back in together. "He always wanted her to write poetry for him," a source said, but lazy old Kristen "never made the effort before". She may, however, have blotted her copybook a little by "telling everyone that he's bad in bed." (Us Weekly, Perez)
Darling, my name doesn't rhyme with 'vampire' (Chris Pizzello/AP/Press Association Images)
Offended: How residents of the Solomon Islands felt when Wills and Kate Middleton wore clothes from their deadly rivals the Cook Islands – roughly 3,000 miles away – for an official appearance on the Solomons. There was a mix-up about some clothes which were left in their hotel room, apparently, and we surmise that a royal staffer is now beating his/her head against a wall and muttering "I f***ed up, I f***ed up, I f***ed up." (E! Online)
Morto. (Chris Jackson/PA Wire)
~~~~~~~~~~~~~~~~~~~~~
The Dirt
Kim Kardashian wants an iPhone 5 for her birthday, because she's very imaginative. (Perez)
A fashion magazine has been caught adding weight to supermodel Karlie Kloss with Photoshop, to hide her exposed ribs. (Radar)
Kylie has got her bottom out on video. (The Sun)
Liv Tyler went on a date with international posh man Benedict Cumberbatch. (Buzzfeed)
Ke$ha had sex with a ghost once, by the way. (The Sun)
Jon Hamm and Jennifer Aniston are among the celebs mortifying Hey Jude in this rather touching charity video for a children's hospital.
[embed id="embed_1"]
YouTube/MyStJude
~~~~~~~~~~~~~~~~~~~~
The Barrel Scraper
DEAR GOD, DON'T MAKE US CHOOSE. (TMZ)