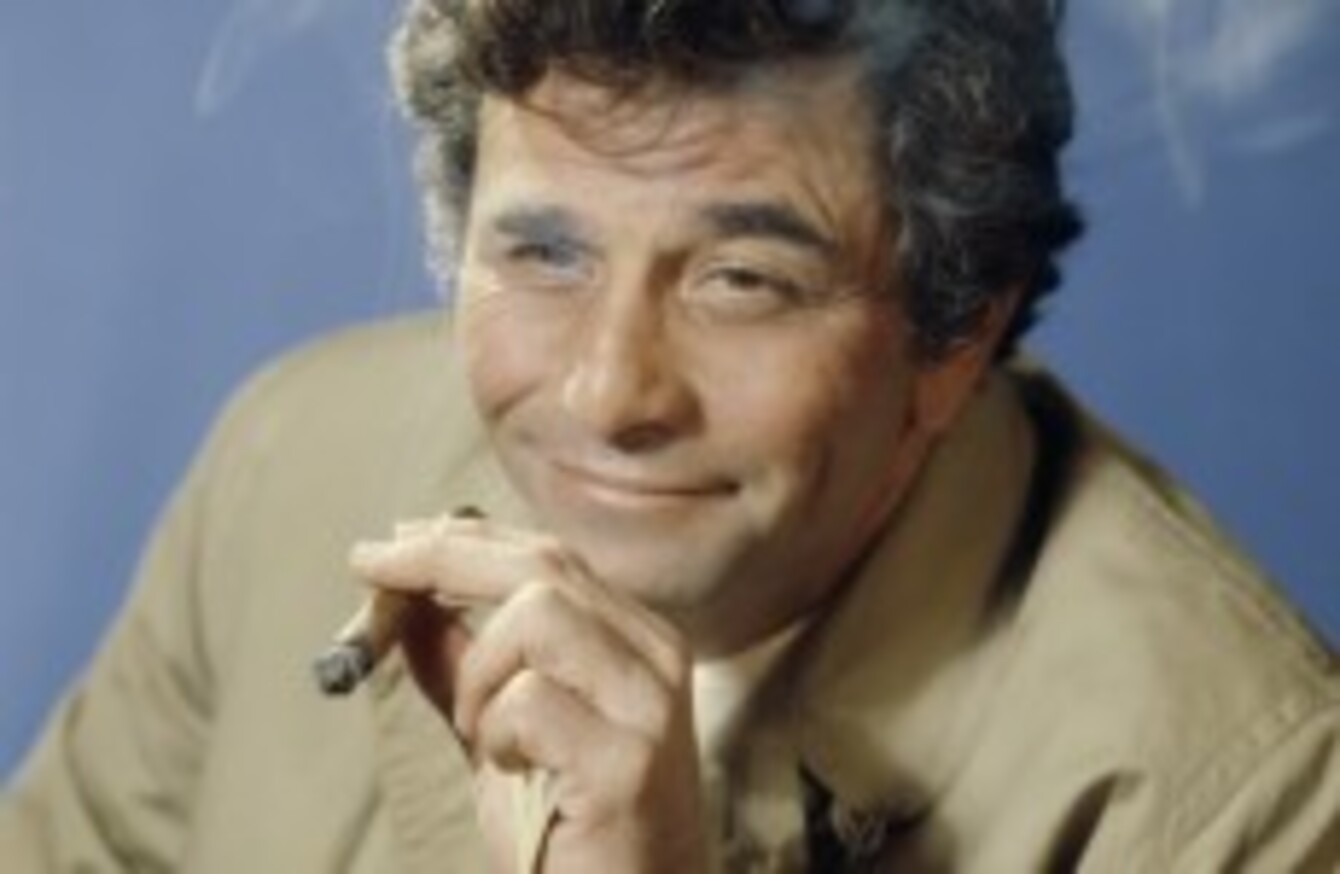 Peter Falk as legendary TV detective Lt Columbo.
Image: NBCU Photo Bank via AP Images
Peter Falk as legendary TV detective Lt Columbo.
Image: NBCU Photo Bank via AP Images
ACTOR PETER FALK – best known for his portrayal as Columbo, one of TV's fiercest detectives – has died. He was 83.
Falk's death was confirmed by a family spokesman to CBS News earlier today. He had been suffering from Alzheimer's disease.
Making his name through the groundbreaking detective crime drama – which inverted the traditional format, by showing the crime taking place and then following Lieutenant Columbo as he pieces together enough details to secure a conviction.
Falk had enjoyed a successful TV career before taking the role that made him world-famous, however; Falk had won the first of four Emmy awards a decade earlier for his role in The Dick Powell Theatre.
Born in New York in 1927, he was twice nominated for the Best Supporting Actor award at the Oscars, for roles in Murder, Inc and Pocketful of Miracles – but it will be as the cigar-chomping, gravelly-voiced Columbo (who never had a first name) that Falk will be forever remembered.
An instant success when it first appeared on TV in 1971, Columbo began as a tri-weekly feature on NBC, rotated with two other murder mystery series on Sunday nights.
Its initial run lasted for seven years – but the character was revived in 1989, when ABC commissioned new movies which aired every six months or so until 2003.
Falk was one of Hollywood's best-paid TV actors, commanding a reported $250,000 per episode – and could have earned far more, but for his steadfast refusal to allow the show be turned into a weekly feature.
The Daily Telegraph added that when the show's producers when they tried to introduce more dramatic violence and sex – worried that a slow-paced, two-hour feature would bore the audience – Falk would consistently veto the plans and demand that tribute be paid to the original scripts.
Columbo's trademark grey trenchcoat was one from Falk's own wardrobe – and was only replaced in the mid-1990s, when it had become simply too ragged to wear any more.
Falk was a late convert to acting, having picked up a master's degree in public administration and intending to take a job in the government. He made his acting debut off Broadway before finding success in The Iceman Cometh.
He had never expected to pick up much work as an actor – he had lost his right eye to cancer at the age of 3, and thought his disability would have prevented him from high-profile roles – but it was the dirty glare from his prosthesis that helped him pick up much of his work.
Aside from his massive body of work as the TV detective, Falk had comic success – in movies like The In-Laws – though his calibre in the crime genre was never far behind.
He is survived by his wife Shera – from whom he divorced twice, only to reconcile each time – and two daughters from a previous marriage.