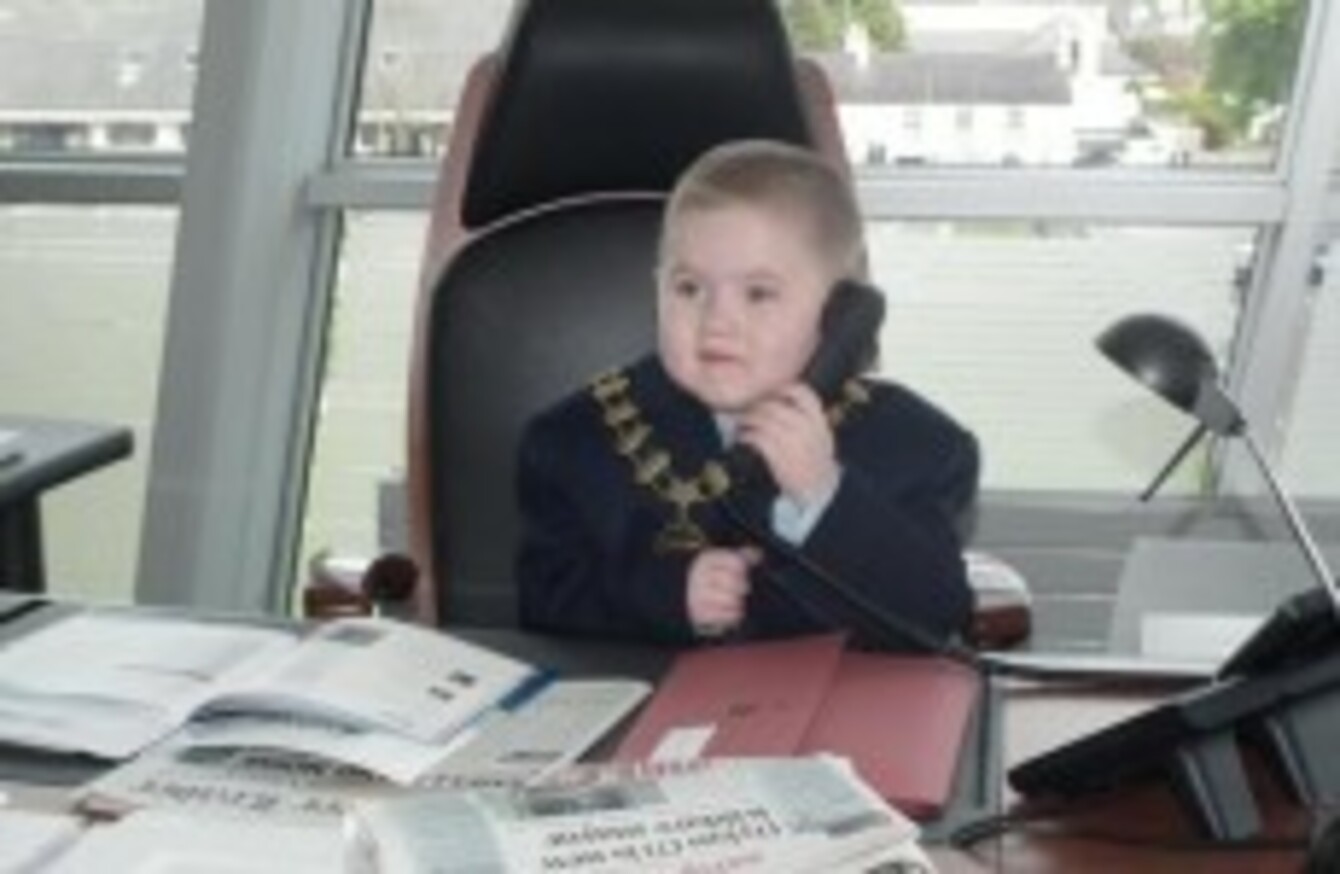 Dylan Steele hard at work as mayor of Kildare
Image: (Image via Fund raising for dylan)
Dylan Steele hard at work as mayor of Kildare
Image: (Image via Fund raising for dylan)
HE HAS BEEN a garda, a fireman and now Ireland's youngest mayor. Seven-year-old Dylan Steele from Co Kildare was recently appointed mayor of Kildare – for the day at least.
Dylan was formally proposed as mayor by Councillor Martin Miley and seconded at a packed out ceremony in Kildare where all councillors and Martin Heydon TD were in attendance. Council members voted him as the 68th Mayor of Kildare.
Dylan suffers from Duchenne Muscular Dystrophy, a life threatening disorder that involves rapid deterioration and muscle weakness.
Following his appointment, Councillor Michael 'Spike' Nolan passed over his mayor's chain to Dylan. The chain was placed around his shoulders with Dylan asking "will I be able to walk with this – it seems very heavy?" He was straight down to business  carrying out his mayoral duties and getting a tour around Kildare County Council offices.
The young mayor was then picked up in a fire engine by Naas Fire Brigade and brought over for a mock fire demonstration.
Speaking to TheJournal.ie, Martina Reid, one of the fundraising organisers for Dylan said:
He had a great day and there was such great support for him. He had an outfit for every role he played, whether he was in his suit as mayor or in his fire uniform at the fire station. When they demonstrated the false fire for Dylan he got straight to work, holding onto the hose and trying to put the fire out.
This is not the first time Dylan has had an official role to play. The Share a Dream Foundation organised that Dylan got to serve as a garda at the Aviva Stadium during the Ireland Vs Italy rugby game. He was suited and booted in his very own garda uniform and was a vital part of the team.
A Monster Road Run and family day in aid of Dylan is taking place on May 27 in the Hunting Ground in Athy, Co Kildare. Martina Reid said that the all the support they have received to date has been great. "We hope the day will be great fun for the kids and especially Dylan," she said.
For more information on fundraising for Dylan please visit the Fundraising for Dylan Facebook page.