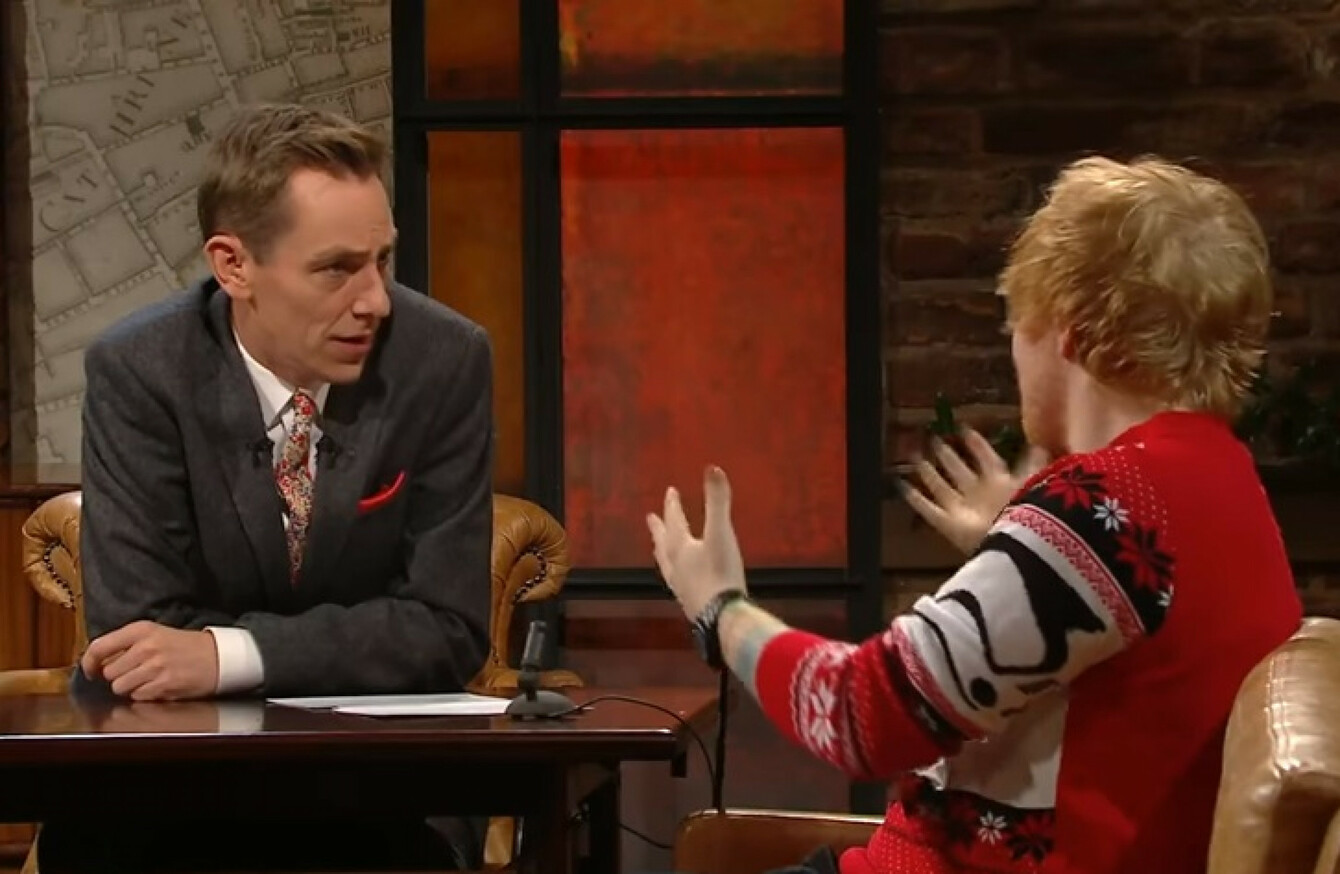 DailyEdge.ie rounds up the TV shows that you'll be tweeting about tonight and talking about tomorrow. 
The Late Late Show (RTÉ One, 9.35pm)
Tonight's the night. Yes, Ed Sheeran will be performing his own version of Fairytale of New York alongside Picture This, Lisa Hannigan and Beoga. It could be an absolute shocker, and Twitter will be ready. He'll also be telling Tubs about how his Belfast-born grandad was an ardent royalist and why it would have been "cool" if he could have seen him pick up his recent MBE. Joe Canning, Jason Byrne and Brendan Grace round out the line-up – but, let's face it, everyone will be watching for Ed.
The Graham Norton Show (BBC One, 10.35pm)
Graham is joined by the stars of the hotly anticipated movie Star Wars: The Last Jedi – Daisy Ridley, John Boyega, Gwendoline Christie and Luke Skywalker himself, Mark Hamill. No Domhnall, but the rest seem like good skins so it's a decent guest list.
I'm a Celebrity Get Me Out of Here! Coming Out (TV3, 9pm)
After enduring up to three weeks facing the horrors of the Australian jungle under the spotlight of the media, the celebrities get ready to embark on life back in the real world. This one hour special follows each of them on their trip home, and we see their emotional reunion with their families, friends and cynical publicists.

Everyone's talking about... Curb Your Enthusiasm is coming back for a tenth season
After emerging from a long hiatus this year, Larry David's legendary comedy was announced for another series yesterday:
The season nine finale of Curb ended with Larry on the run from a man who didn't get the memo that Larry's fatwa had been revoked. The cliffhanger was intended to function as both a season and a series finale, in case David decided he didn't have another season's worth of stories.
Pretaaaay pretaaaay good.

Or flick over for...
The Six O'Clock Show (TV3, 6pm) Michelle Visage, Mary Black and... Bosco are all on the couch tonight. Bosco interacting with Michelle Visage has the potential to be the telly highlight of 2017. 

Making of Planet Earth II (RTÉ 2, 8.40pm) Behind the scenes on David Attenborough's wildlife series.
The Last Leg (Channel 4, 9pm) Jon Hamm joins Adam Hills, Josh Widdicombe and Alex Brooker for a look back on the week that was.
Liveline: Call Back (RTÉ One, 8.30pm) Talk to Joooooe (on the TV).
DailyEdge is on Instagram!