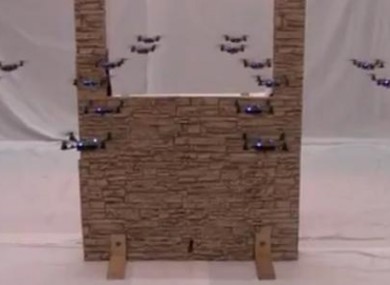 The drones in action.
Image: YouTube.com
THIS VIDEO surfaced a few days ago, but in light of the US Federal Aviation Administration's new directive to figure out how to integrate the US drone fleet into national airspace, it now carries a deeper significance.
The small drones are coordinating their flight off each other for a choreographed pattern that's nothing if not fascinating – and slightly unnerving.
The biggest obstacle to putting drones into US flight paths is their inability to recognise other aircraft in their space. It looks like that problem may be overcome sooner, rather than later.
The figure eight at 1:24 is worth waiting for. (H/t Liz Klimas at The Blaze).

Video (http://www.youtube.com/watch=YQIMGV5vtd4&t=)
(Video via TheDmel)