AIN'T LOVE GRAND? And there's nothing more grand than young love.
When you were a kid romance was a hard to thing to get going and telling someone you had a crush on them was very complicated.
You couldn't friend them on Facebook and send a cheeky private message but you were too shy to just approach them and tell them you liked them.
So here are some of the ways you tried to tell someone you fancied them in those hallowed childhood days.
1. Use your friend as a messenger
Image via Shutterstock
The oldest (and we'd wager most successful) trick in the book was to get your friend to go up to the person and polite inform them that you were interested in them and  that if they were too then you should let your friend know.
Definitely the way that all long lasting relationships start.
2.  Faking a shared interest
f-ckyeah1990s / Tumblr
Whether you pretended to have a knowledge of some sporting team or perhaps developed a completely staged interest in Pogs you'd always find  a way to share a new interest with your crush on the off-chance they'd suddenly fall for you.
Genius plan really.
3.  A request on the radio
Remember the days of being holed up in your room with only the local radio request show for company while you sneakily taped songs off the radio?
Nothing made a bolder statement about whether you liked someone or not then by dedicating a hit song to them.
Or even just leaving your initials in the request. Either way it was the ultimate smooth move
It was a bit like this scene from Friends but hopefully it went a bit better when you tried it:

mutje tjitrodimedjo /YouTube
4.  The note in the locker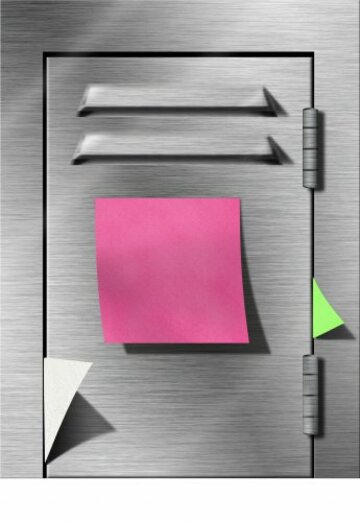 Image via Shutterstock
There was nothing like the school locker for leaving a covert little note.
It was basically an early version of the sneaky private message on Facebook.
The note itself could be as to the point or subtle as you like but it was definitely a good way to get someone's interest.
5.  Pretend they were funny (even if they weren't)
Paying attention to someone was a great way for them to figure out you liked them and the ultimate way to do that was to laugh really hard at anything remotely funny they did.
Even if they weren't that funny.
FierceGifs / Tumblr
6. Impressing their friends
The best way to let someone know you like them was to get on board with their gang of friends so they could slowly see how great you were before you hit them with the info that you have a crush.
Basically you listened to the lyrics of this Spice Girl hit and took it to heart:

Sontax25 / YouTube
7. A Valentine's or Christmas card
This is really going for it, sending that all important card for a special occasion that really lets them know you are ready to show an interest.
We're thinking something in this vein:
via Imgur
8. Stand outside their house holding a boombox
You could have just gone for some 80s movie inspired romance maybe replicating this John Cusack classic:

Ines Fonseca / YouTube
Probably the best way to tell someone you like them really.