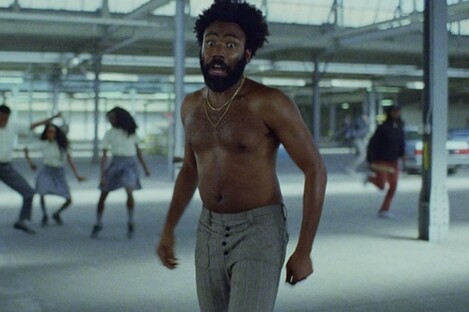 Source: Youtube
ON SUNDAY NIGHT, allegations that Donald Glover had plagiarised his platinum single 'This Is America' began to spread on Twitter.
Source: ChildishGambinoVEVO/YouTube
One Twitter user shared a song from 2016 which had gotten "4,000 views on Youtube", over the music video for 'This Is America', and suggested that Donald Glover had "stolen" the song.
That song, which had received 4,000 views on Youtube was American Pharaoh by Jase Harley. One Twitter user said that "This is one of the few times where it doesn't seem like people are reaching [to compare two similar songs]."
You can have a look for yourself:
If the video won't play, click here.
 However, one of Donald Glover's managers has flat-out denied these allegations.
Fam Rothstein, who also helped to co-produce the music video for This Is America wrote in a tweet that has since been deleted:
The internet is a place of no consequences. I hate that Toronto Akademiks/every white blogger can say something as gospel and y'all take it. This song is 3 years old, and we have Pro Tools files to prove it.
Meanwhile, on Reddit, people have been sharing screenshots of Jase Harley's Instagram comments where he's really not that pressed over the whole thing. The rapper and producer of American Pharaoh said "A shout out would be cool. All good tho… He's a great artist, dope I could've had some influence on the record."
Here are some of his other comments on the matter:
I always felt my song inspired it lol from the first time I heard it.
Glad they liked my song. It's all love.
All artists get inspired by others… Artists being thirsty for bread is why people don't wanna credit anyone for inspiration. It's all love and support from me.
Last night, Jase put up an Instagram post to address the controversy.
"Please don't let this controversy dilute the message me and @childishgambino are trying to convey. We are speaking about injustices we've encountered and he's helped to provide a platform for all our voices to be heard."
Well, it's pretty clear that Jase Harley is the most chilled out person on the planet.
DailyEdge is on Instagram!