AS YOU MAY have heard, Breaking Bad star Aaron Paul was out and about in Dublin over the weekend. Aside from hitting up nightspots like 37 Dawson Street, The Dean and Dicey's, he also took in a spot of culture.
Yes, the actor paid a visit to Dublin's Olympia Theatre to see the Gleeson clan do their thing in a production of The Walworth Farce.
And he loved it.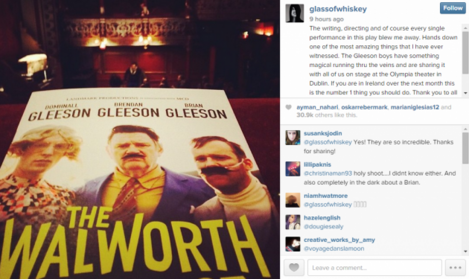 Source: Aaron Paul/Instagram
The actor shared an image from the play on Instagram and called it "one of the most amazing things" he has ever witnessed.
The writing, directing and of course every single performance in this play blew me away. Hands down one of the most amazing things that I have ever witnessed. The Gleeson boys have something magical running thru the veins and are sharing it with all of us on stage at the Olympia theater in Dublin. If you are in Ireland over the next month this is the number 1 thing you should do. Thank you to all for this incredible production. So badly wish I could see it again before I take off. Love you Ireland! I will miss you always. #TheWalworthFarce
Now that's what you call a glowing review.
Paul isn't alone in his assessment either. The play has been receiving high praise from audiences since it kicked off its run last week.
The play runs in the Olympia Theatre until February 8th.