ANGELINA JOLIE encouraged children to be "proud" of being different in a sweet speech at the Kids' Choice Awards last night.
The actress attended the ceremony with two of her children, Shiloh and Zahara, and picked up the Favourite Villain award for her role in Maleficent.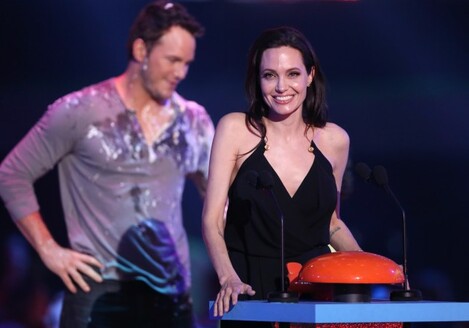 Source: AP/Press Association Images
Despite the villainous nature of her character, her winner's speech was anything but. It's been getting huge praise on Twitter this morning for its inspiring message to children – "different is good":
Source: Juana Zavaleta/YouTube
Don't fit in. Don't sit still. Don't ever try to be less than what you are. And whenever someone tells you that you are different, smile and hold your head up high and be proud.
"And as your villain, I would say: Cause a little trouble, it's good for you," she added.
Last night marked Jolie's first public appearance since a cancer scare led to her choosing to have her ovaries removed. She wrote about her experience in an op-ed for the New York Times, saying:
It is not possible to remove all risk, and the fact is I remain prone to cancer. I will look for natural ways to strengthen my immune system. I feel feminine, and grounded in the choices I am making for myself and my family. I know my children will never have to say, "Mom died of ovarian cancer."