AT A RECENT gig in Dublin's Purty Kitchen, Aslan singer Christy Dignam was getting set to perform his 1988 tune 'This Is' with guitarist Joe Jewell, when a heckler in the audience began to make some loud remarks about the singer's teeth.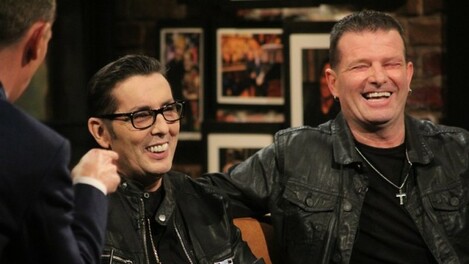 Source: RTÉ
Dignam was introducing 'This Is' with an anecdote about O'Connell street, when the heckler began shouting "Where did you get your teeth?" Christy, understandably, lost the head and replied "F**k off. Jesus Christ." At first he was going to ignore the audience member, but he continued:
If you can get those teeth out, I tell ya, they'd bite the arse off ya. Anyway, what can ya do? I bought them. Why? Is it f**king bothering you? Is it? I f**king have cancer. I've gone through three chemotherapies. F**k off. Little shite. 
The audience applauded Christy's response, but the singer went on.
Why do you lower yourself to that f**king infantile f**king stuff? Why do you do that, man? It just makes you look so small. 
The 58-year-old thanked the rest of the audience, and continued with his performance. 
Source: Roy O Mahony/YouTube
DailyEdge is on Instagram!