I HAVE LOST count of the amount of times I've witnessed a remark intended to insult suddenly transform itself into 'a joke' when its initial intention had the desired effect.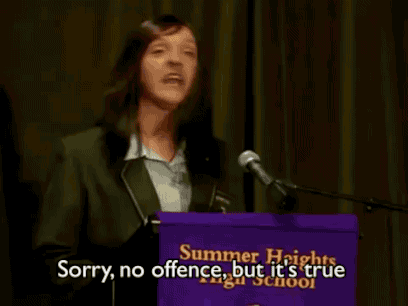 Source: Giphy
In other words, I have been insulted on occasion, and then told my sense of humour – in addition to whatever else supposedly warranted judgement in the aforementioned exchange – was worth examining when I challenged the remark.
Here's the thing though; there are few among us who can't identify a genuine joke, in the same way there are few among of us who can't identify when someone has been insulted, however subtle it may have been delivered.
This week, 23-year-old Ada Hegerberg became the first recipient of the Women's Ballon d'Or award, which named her the best women's soccer player in the world.
And as a three-times Champion's League winner with 250 career goals under her belt, what was her interviewer's focus?
It was whether she could twerk.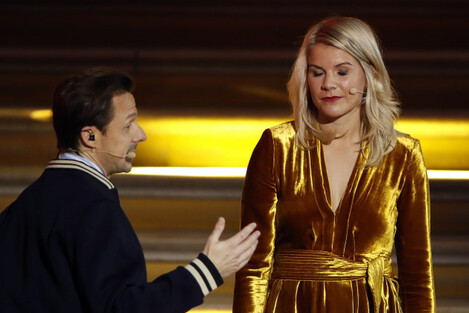 Source: AP/PA Images
In one fell swoop, French DJ, Martin Solveig, minimised Ada's achievements, reduced her to little more than a sex object, and left those present in no doubt as to the importance he places on women's achievement in international football.
The incident would be disheartening enough in itself, but then came Solveig's 'apology'.
Arguably compelled to comment given the public furore that followed the on-stage exchange, Solveig assured everyone on Twitter that all was well between himself and Ada. 
And how can we be so sure?
Well, because he 'explained', and thankfully Ada 'understood'.
I explained to @AdaStolsmo the buzz and she told me she understood it was a joke. Nevertheless my apologies to anyone who may have been offended. Most importantly congratulations to Ada.
It's genuinely difficult to decide which is worse; the initial remark or the subsequent 'apology'.
Word to the wise; if you have to 'explain' your joke, it probably had very little grounding in humour to begin with.
And when the butt of your joke reassures you she 'understood' it, it wouldn't be a stretch to assume she's simply trying to maintain the dignity your 'joke' attempted to rob her of.
While Ada may choose to give Solveig the benefit of the doubt and ignore his initial sexism and subsequent mansplaining, Scottish tennis player, Andy Murray, isn't as quick to extend the same level of 'understanding'.
In an Instagram post, Andy insisted that Solveig's remark was an accurate depiction of commonplace sexism in sport.
Another example of the ridiculous sexism that still exists in sport. Why do women still have to up with that shit? What questions did they ask Mbappe and Modric? I'd imagine something to do with football.
"And to everyone who thinks people are overreacting and it was just a joke… it wasn't. I've been involved in sport my whole life and the level of sexism is unreal" he added.
Given the backlash Solveig received on Twitter, Andy isn't alone in his assessment.
"I mansplained to the woman I offended how she should be better at laughing at my jokes"

— Majbrit Høyrup (@majbrit_hoeyrup) December 4, 2018
Couldn't watch ya mouth for a second mate?

— Gabe (@GabeTheSpaniard) December 3, 2018
You ruined her moment.

— Luke Schnoebelen (@schneby) December 3, 2018
Pathetic apology. Everyone who has an ounce of decency and respect for women is offended you knob.

— Eniola Aluko (@EniAlu) December 3, 2018
Well... she clearly shows class accepting a lame appology from a small man! Congrats to Ada.

— Øivind Mjelde (@OivindM) December 4, 2018
Solveig's initial remark suggested innate sexism, his follow-up 'apology' proved it.
DailyEdge is on Instagram!