HERE'S SOMETHING YOU will never see at the Rose of Tralee.
After being named runner-up in the Miss Amazon 2015 pageant, a Brazilian woman named Sheislane Hayalla was disappointed.
How did she express her disappointment?
By marching right up behind the winner, ripping the crown off her head and walking away in disgust. Unfortunately for Hayalla, the whole thing was caught on camera and is now going super viral.
Source: Binibini/YouTube
Let's relive it in GIF form.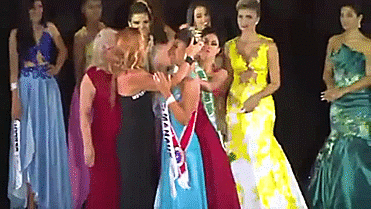 You, on a night out
For her part, Hayalla claims that her rival bought the title of Miss Amazon and says that she has no regrets over the incident and
In a Facebook post, she wrote:
I do not accept injustice and will never let something go unpunished, I wanted to express my disapproval of the actions in the preparations for Miss Amazon 2015. I do not regret having protested. I believe I have planted change in this great contest. I wanted something clean and honest.
No shame, girl.