BELLE AND SEBASTIAN were one of the most beloved indie bands of the 1990s.
The group are currently touring across the United States, but suffered a bit of a mishap yesterday when they accidentally left their drummer behind in North Dakota. If it sounds like the plot of a hipster Home Alone, you're not far wrong.
The lead singer sent a frantic tweet asking if anyone could give their drummer a lift to St. Paul, Minnesota.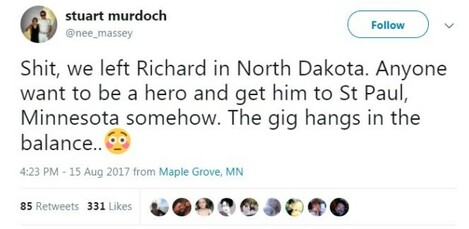 Source: Stuart Murdoch/Twitter
Murdoch told The Current that they left Richard behind in a Wal Mart and only noticed a few hours later.
I'm kind of partially to blame because we were in a Walmart, we were just leaving town, Dickinson, North Dakota — not the other side of North Dakota! And we stopped for water, and I was coming out of the Walmart, and he [drummer Richard Colburn] was coming into the Walmart, and he was waving very happily, in a good mood. And that was the last time that we saw him.
He had a credit card, but he still sat in Walmart for four hours, but the thing is, he was probably thinking that we were — somebody was going to notice, but the trouble is everybody went to bed.
Offers poured in…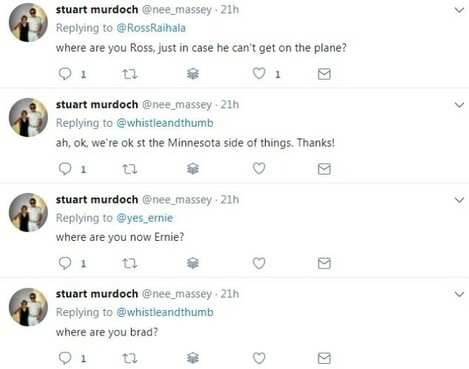 Source: Stuart Murdoch/Twitter
But eventually they got him in a car to Bismarck, North Dakota, and on a flight to Minneapolis
Although there were still concerns that he wouldn't be permitted to board the plane without identification. Eek.
Source: Stuart Murdoch/Twitter
There were comparisons made to Almost Famous.
Inevitble, really.
Source: Stuart Murdoch/Twitter
Fortunately Richard made it onto the plane. Pyjamas and mimosas – now that's how you travel.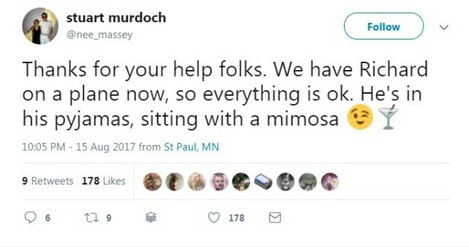 Source: Stuart Murdoch/Twitter
In his interview with The Current, Murdoch explained that there used to be a system in place for when people left the bus.
There used to be a system, but because we all have mobile phones these days, everybody's got a little bit blasé about it. It used to be that it was the pass on the passenger seat — you used to leave a pass for the last person, and that's how the driver knew. So Richard didn't have his phone with him, and we were all talking about all the different things he could've done, but he checked into a hotel and went to sleep!
But now it looks as though they've reinstated it.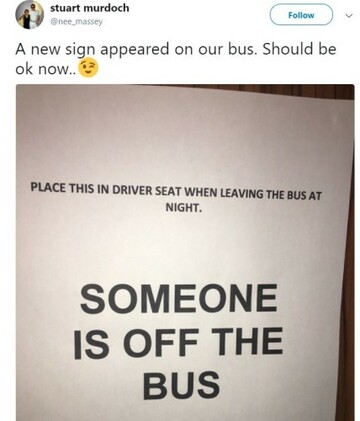 Source: Stuart Murdoch/Twitter
And, yes, they managed to play the show.
DailyEdge is on Snapchat! Tap the button below to add!