IT IS NOW officially winter. And you know what that means.
*slow smile*
1. Accents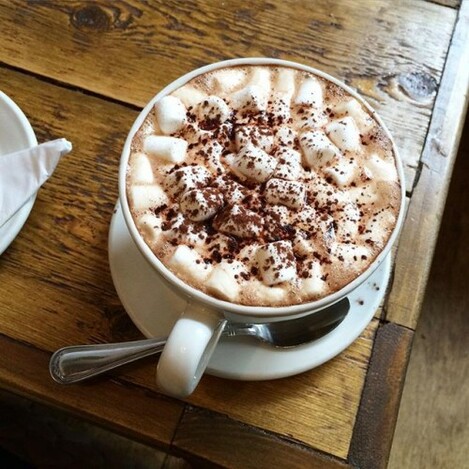 Source: brenn_mcd
An unpretentious city-centre favourite, Accents on Stephen Street serves up sizeable cups of marshmallow-stacked hot chocolate. It's also open until 11pm, making it the perfect place for a soothing evening cuppa (or a booze-free date).
2. Bean and Goose
Source: Bean and Goose Chocolate
Sisters Karen and Natalie make their chocolate in Wexford, and sell it in Temple Bar marketof a Saturday. Their signature blend hot chocolate is flavoured with bay leaves, cinnamon and sea salt and is quite the experience. Just the thing on a winter's afternoon.
3. Vice Coffee
Source: hollydalton17
Vice Coffee Inc – formerly housed in the Twisted Pepper, now in an upstairs room of the same building in a setup so hip you have to buzz for entry - serve their hot chocolate not with marshmallows, but with Maltesers. MALTESERS.
4. Butlers
The original and (one of) the best. Butlers may be a sizeable chain, but their white hot chocolate is still worth a trip for anyone who enjoys cardiac-event-level sugar saturation.
5. Clement and Pekoe
Source: patrickktv
You don't even get hot chocolate at Clement and Pekoe on South William Street. You get a cup of hot milk, and a lollipop of their finest chocolate mix to swirl around until it's just how you like it. Spoiler: the results are delicious.
6. Brother Hubbard
Source: sarahkinsella35
Brother Hubbard's entry to this list should really be called Double Hot Chocolate. You get an espresso-style shot of concentrated chocolate goo, and a jug of fresh hot chocolate milk. Pour one into the other, stir, and stare out of their steamed-up window on Capel Street in a cocoa-induced stupor.
7. Coco Bo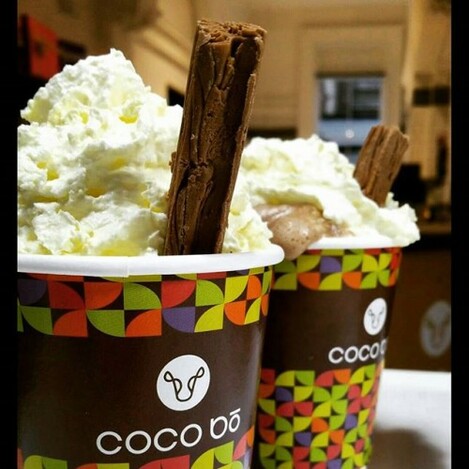 Source: cocobodublin
Dublin's newest chocolate cafe have introduced (invented?) the 99 Hot Chocolate: chocolate milk, a cone of whipped cream, and a flake to top it off. No word yet on whether it can be taken intravenously.
8. Cocoa Atelier
Admirers of posh macaroons already know all about Cocoa Atelier, the extremely fancy chocolate shop on Drury Street. They don't have a sit-in area so mightn't be the most obvious choice for a hot chocolate, but don't let this put you off. Their 'chocololly' – see Clement and Pekoe, above - dissolves in hot milk for a next-level hot chocolate experience.
Bonus: you can take the lollies away and make your own in front of the fire at home.