AS MOST WOMEN will tell you, there's no feeling quite like the relief you experience when you take your bra off at the end of a long day and let your girls breathe. 
Now someone has invented a bra for when you're lounging around your house and don't really need to wear a bra.
Introducing the Ta Ta Towel.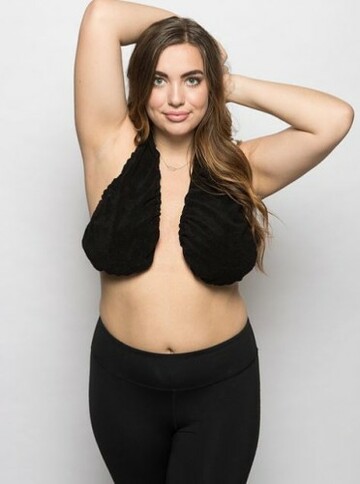 Source: Ta Ta Towel
The ta-ta towel was invented by a Los Angeles woman named Erin Robertson and has been likened to a "hammock for your boobs".
On her website, Robertson explains that she conceived of the idea one evening while she was getting ready for a date and was experiencing boob sweat issues.
As I got out of the shower and started getting ready, I could not stop sweating — not because I was about to go on a first date, but because my tiny A/C unit was broken AND it was the beginning of summer. I had a lot working against me. I tried everything: I tucked wash cloths under my breasts, I tried dumping baby powder all over me, I even put a t-shirt on and tucked it under my boobs. But the wash cloths looked ridiculous, the baby powder made me look more like dough, and the t-shirt was making me sweat even more.
 I didn't want to wear a bra while I was getting ready or just lounging around the house. I wanted my "girls" to be free! That night, I was lying in my bed thinking about all the different ways I could solve this problem… and then it hit me. I sat up with excitement!! "I'VE GOT IT!!"
It was then that she invented ta-ta towels, which she claims are ideal for women who just want to laze around or those who struggle with sweating/chafing.
Additionally, they're supposedly ideal for women who are pregnant and/or breastfeeding. ("The ultra-soft rayon liner was made with sensitive nipples in mind and also absorbs any breast milk that might leak out during feeding.")
Sure, it might be unconventional, but women are fully on board. Anything to counteract boob sweat, right?
Oh, and the best part?
The Ta Ta Towels are designed to accommodate big-busted gals  - the smallest size available is a C cup and it goes right up to a H cup.
Genius. Truly genius.
DailyEdge is on Snapchat! Tap the button below to add!