WELL, IT LOOKS like the culprit of the hoax Tralee Burger King pancake giveaway has finally revealed himself.
The social media stirrer is none other than Jeremy Clarkson… ahem.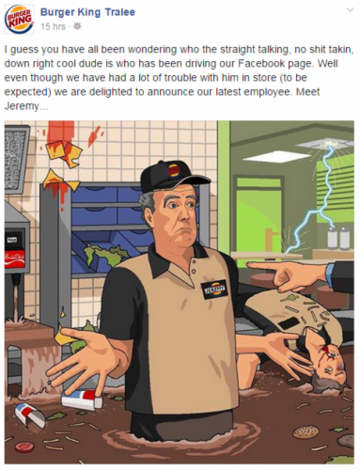 Yesterday the Burger King Tralee Facebook page went viral after giving this rather choice reply to a complaining customer.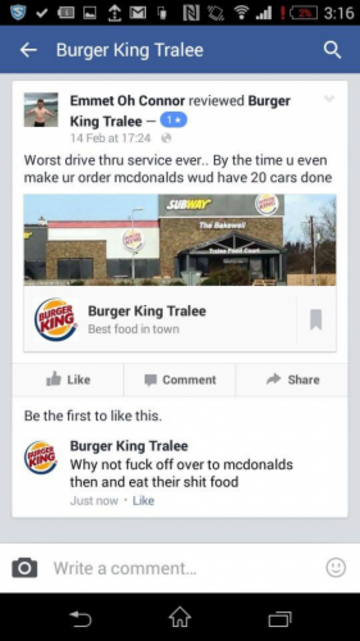 Source: Shane_86
The review was shared all over social media but was quickly deleted from Facebook by the reviewer himself.
As a result, the restaurant announced they would be giving out free pancakes to customers to apologise for the brash response. Suspiciously, they would need 'proof of sharing' to claim the offer.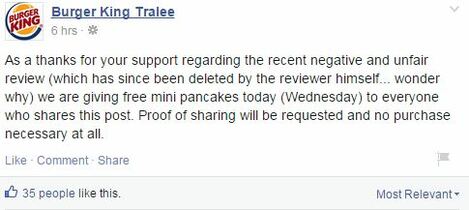 When DailyEdge.ie contacted the Burger King in the Tralee food court we were told they don't own an official Facebook at all.
Burger King issued a statement to Tralee Today confirming that the page is bogus, saying
The comments that were made by an individual were unfortunate and do not reflect the views of Burger King Tralee. We apologise for any offence caused by the comments of this individual.
The latest revelation is causing some disdain, with one commenter saying:
Burger King is a global brand and if this page is in fact a genuine business page for Burger King Tralee, then those running and managing the page should be doing so in a professional manner.
However, others seem to be enjoying it, saying "tis only a bit of craic", and that it was the "best comeback" they'd seen in a long time.
Either way, it's not actually Burger King. As you were.