SAOIRSE RONAN HAS a new fella.
The scandal. Well, she has a new fella according to Dan Wooton of The Sun, so believe what you will.
According to Dan, Saoirse met up with ballet dancer Calum Lowden after the BAFTAs on Sunday night, and 'couldn't have looked happier'.
So, tell us all
He has a famous brother
Calum Lowden is Jack Lowden's little brother, and attended the ceremony with him on Sunday.
Jack is an actor who appeared in Dunkirk and, curiously, will appear in Mary, Queen of Scots, with Saoirse next year.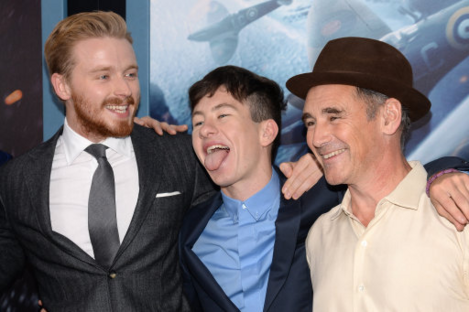 Jack Lowden with Barry Keoghan and Mark Rylace at the Dunkirk premiere last year Source: Anthony Behar, SIPA Images
He even spoke about her threatening to smack him to RTE last year
Off to a good start, so.
Click here if you can't see the video. 
He's 24, Scottish, and a 1st soloist for the Royal Swedish Ballet
Calum hails from Oxton, but lives in Stockholm for work.
He was inspired to dance by Michael Flately when he was just five years old
He DOES have a thing for Irish people.
He trained in the English Ballet School and the Royal Ballet School in London
No messin' here.
He was once called 'Edinburgh's Billy Elliot' by The Scotsman, and for that, we think he's a perfect match for Saoirse.
DailyEdge is on Instagram!