TAYLOR SWIFT ANNOUNCED the two ladies that will be accompanying her on her stadium tour this summer.
In a quick video during rehersals, Swift checked in to tell us that none other than Charlie XCX and Camila Cabello will join her on the road. The Reputation Tour is set to hit Dublin on June 15 and 16.
Click here if you can't see the video.
Charlie XCX was delighted, of course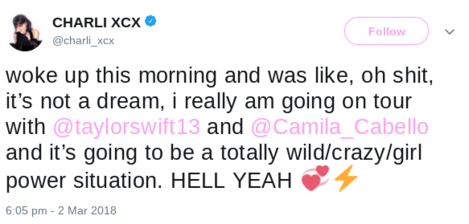 But it was 21-year-old Camila Cabello's response that kinda makes our hearts swell
She posted an incredibly sweet video of her response to Taylor's announcement video, and the caption is just as nice.
She writes:
on every level, this is a dream come true, as a fan, i'm going to be singing every song at the top of my lungs, as a friend, it's a GIANT SLEEPOVER.
as the girl who had a Taylor swift poster in her room when she was 14 and wanted SO BADLY to go to the speak now tour (distinctly remember my friends going to school the next day raving about it and me like :( ), ITS A DREAM.
as the girl who would sing Hey Stephen thinking of the boy in class who didn't know my name LMAO, it's. A. DREAM.
I think it's ok to channel Gabrielle when I say, dreams, can come true do do do.
DailyEdge is on Instagram!