Source: ASSOCIATED PRESS
THIS ARTWORK WAS painted by a chimpanzee who uses his tongue instead of a paintbrush. And it won a competition to be dubbed the best chimpanzee painting in the US.
Brent, a 37-year-old retired laboratory animal, was the top vote-getter in an online chimp art contest organized by the Humane Society of the United States. He won $10,000 for the Chimp Haven sanctuary in northwest Louisiana.
A Chimp Haven spokeswoman said Brent was unavailable for comment Thursday. "I think he's asleep," Ashley Gordon said.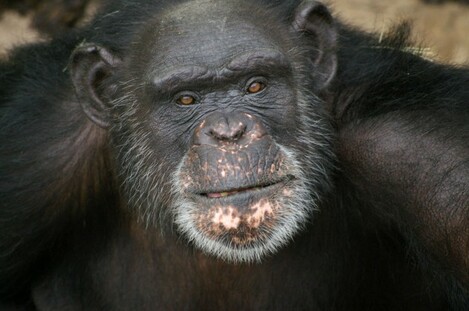 Brent, now an award-winning chimpanzee artist Source: ASSOCIATED PRESS
Brent made the painting after Chimp Haven's CEO Cathy Willis Spraetz held a canvas up to the mesh of his cage.
Some other chimps use brushes or point to the colors they want on the canvas, but Brent comes up to smush pre-applied blobs of child-safe tempera paints with his tongue, she said.
"If we handed the canvas to them where it was on the inside, they might not want to hand it back," she said. "They might throw it around and step on it."