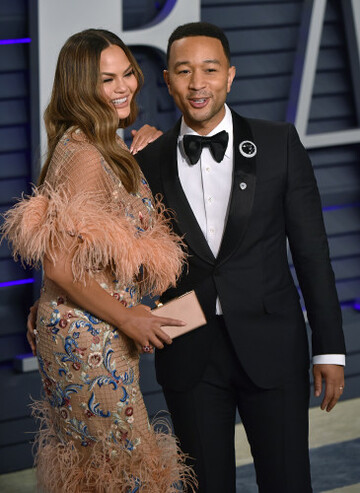 Source: UPI/PA Images
BECAUSE IT'S 2019, we're going to just go ahead and assume that you understand the dynamic of Chrissy Teigen and John Legend's relationship. 
The most concise way we can put it is: Chrissy loves winding John up. In most relationships, there's one party who takes on that role. She's the Ryan Reynolds of the relationship while John is the Blake Lively. Any opportunity she gets, she'll take the piss out of John, in a harmless and amusing manner. 
It's a topic that is regularly brought to John in interviews. The most recent example would be John's appearance on The Ellen Show last Friday. Ellen DeGeneres began to chat with John about Chrissy's social media presence:
She sends out tweets like, "I like to send John nudes and say, 'Sorry, wrong person!'" [...] Does she run these by you? Or she just surprises you? 
John explained, "She runs some tweets by me, but she never runs the ones where she's talking about me by me. She sits next to me on the couch and she'll have this devilish look on her face, like she's conniving some kind of devious plan." 
Source: TheEllenShow/YouTube
Now, it's unlikely that Chrissy was referring to Ellen in particular when she took to Twitter last night, as Ellen opened up the segment with John by mentioning how friendly she is with Chrissy, but it looks like Chrissy is officially done with questions like the one Ellen asked John.
The 33-year-old tweeted:
I feel like a very common question when interviewing John is basically, "How do you deal with your wife" and… I don't love it.
When you think about it, you can see her point of view. Everywhere John goes, he gets asked how he puts up with his wife. Why is this the case? You don't see Blake Lively getting asked how she puts up with the antics of Ryan Reynolds. Could it be because we're far more accepting of this kind of behaviour when it's coming from a husband/dad? Chrissy Teigen went into a little bit more detail:
It happens a lot. "Does she ask you if certain things are okay to say?" …It's just weird to me. 
While it may seem like a harmless question to some people, for other people, and clearly Chrissy, it can be received as, "Wow, your wife is out of control. Are you seriously okay with that?" Chrissy clarified that she doesn't run these jokes by John. 
I don't care and he doesn't care. End of question. 
Teigen added:
He usually does the standard, "No… She knows what she's doing…" but it's not even that. It's just that I am a different human than him. It is theeeee most common question with him. Please stop. 
It's easy to understand how this could be just as frustrating for John Legend, a man who (as Ellen even pointed out) has won an Emmy, a Grammy, an Oscar and a Tony. There's so much this man has done in his career and in his life, and the questions always come back to his wife's tweets. Finally, Chrissy told Twitter:
I'm not mad at anyone who has asked this. I get that we are very different. It happens a lot though and I'm just not very into it. You don't ask me how I deal with watching MSNBC every night or what I do while he's silent for a week. 
One fan expressed their serious curiosity to how Chrissy deals with John's silence, and she jokingly explained, "Ask him if he is mad at me, nonstop." 
DailyEdge is on Instagram!