CHRISTINA NOBLE IS known to many for her charity work and now her story looks set to reach an even wider audience after a film about her life took top honours at the Santa Barbara Film Festival.
Biopic Noble charts the tale of the Dublin woman's extraordinary life, as she "overcomes the harsh difficulties of her childhood in Ireland to discover her destiny on the streets of Saigon".
The Irish woman arrived in Ho Chi Minh City, Vietnam, in 1989 and set up the Christina Noble Foundation in order to help the city's underprivileged children. Since then, the foundation has helped over 700,000 street children in Vietnam and Mongolia to live better lives.
The film really impressed the festival jury and was awarded the Panavision Spirit Award for Independent Cinema, which is given to a film that is made outside Hollywood.
Deirdre O'Kane – who takes on the title role – took to Twitter last night to celebrate the good news.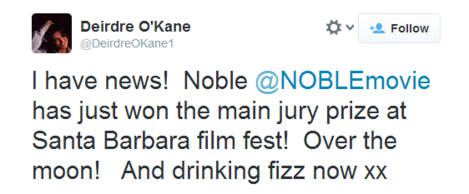 Her co-star Mark Huberman – brother of Amy – collected the award on behalf of writer/director Stephen Bradley, and the cast and crew of the film.
Noble boasts a strong Irish cast including Brendan Coyle – who previously played O'Kane's husband Jeremy in RTE's Paths to Freedom – Liam Cunnningham (Game of Thrones), Ruth Negga (Love/Hate) and Sarah Greene (The Guard,) who plays the younger incarnation of the charity worker.
IMDB says the film should hit Irish cinemas in September 2014.