WELL, THAT YEAR flew by in the blink of an eye, and what a year it was.
Source: giphy
Oh sure, there were moments when we despaired of everything, questioned whether we were in a highly sophisticated version of The Truman Show, and generally wanted to sleep until 2019.
But amidst all this, there were some genuinely heartwarming moments that reminded us that everything really was going to be OK.
And as the year draws to a close, we have decided to look back on these moments – in no particular order – and cross our fingers for even more of this nature in 2019.
Look, the Papal Visit back in August was a divisive one, there's no doubt about it. While thousands gathered to greet him in the Phoenix Park, thousands more gathered to protest his arrival in Ireland.
And yet there was one particular moment which stood out to everyone.
And that's when one ballsy gal named Alison Nevin grabbed an opportunity with both hands and reminded us that no one is above tweaking their Insta game, and that includes the head of the Catholic Church.
Yep, in front of thousands both at home and in Croke Park, Alison saw a selfie opportunity and seized it. Alison, you legend.
While Storm Emma back in March had most of us fretting over our bread supply and more of us questioning how we'd survive being marooned with our family members, one couple had much bigger things on their mind; their wedding day.
John Phelan and Bernadette Doherty were due to be officially married in Naas registry office on Friday, March 2, but Storm Emma and the Beast from the East had other ideas, and their ceremony was cancelled.
And that's when John and Berndatte's neighbour, Katie Hand, stepped in.
With the help of John, and Katie's husband, Will, a snow chapel was built in the back garden, and a hen party, a wedding ceremony, and a feast were held in the couple's honour. And that's how you do it.
Source: Katie Boyle/YouTube
Like we said, bread was the number one talking point in Ireland when the snow hit.
Who had it? Why did everyone need it? Who could get us more?
Well, the answer to that last question was Co Clare lad, Patrick Mungovan, who took it upon himself to deliver bread to friends, family members and neighbours with the help of his trusty drone…. as long as you were in a three-mile radius, that is.
Source: Patrick Mungovan/Facebook
This story involves a dog, a year of anguish and a very triumphant return; Elsa, you really put us through the mill.
A year to the day after going missing from her home in Ballyfermot, Elsa, a German Shepard, found her way back to her family.
Discovered in a car park in Cabra by two women, Elsa was brought to the Dog's Trust in Finglas before being reunited with her owners, who had had her microchipped before her disappearance.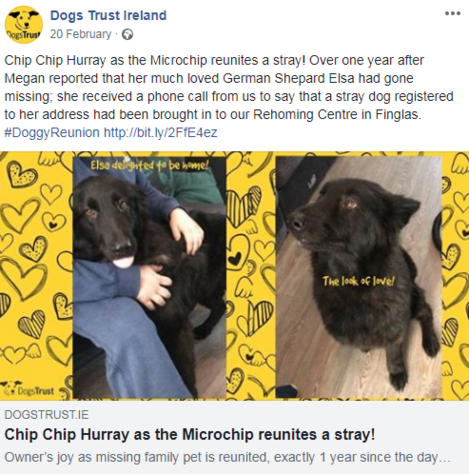 Source: DogsTrustIrelandOnline/Facebook
And yes, we cried real tears.
5. The Streets Ahead Dance Troupe
In response to the Stoneman Douglas school shooting in the US back in February, a Dublin dance troupe choreographed a routine to the tune of Black Eye Peas' Where Is The Love?
Streets Ahead Dance Studio, a Swords-based troupe, sought to honour all those affected by the massacre with a performance which touched the hearts of many on social media.
6. This random act of kindness
Back in March, Leisureland in Galway paid tribute to a generous stranger who sent €120 to the venue in order to facilitate free entry for the first 22 children to rock up that day.
A note was provided with each entry, which read:
Your entry today had been paid for you by a random act of kindness. I have no connection with Leisureland other than a visit to Ireland a few years ago which has the friendliest people in the world! Hope you enjoy your swim and share the love.
Just imagine being one of those kids that day, and yep we're filling up with tears again.
7. This Dublin hair salon's amazing gesture 

Source: Shutterstock/alekso94
In February of this year, Gillian Lee of Mane Envy Hair in Baldoyle provided a free blow dry to any woman who could confirm that she availed of her free cervical check.
In a Facebook post, Gillian wrote; "As it approaches Mothers Day it always makes me think of Jade Goody and her two little boys she left behind , Its awful for me to say but 'The Jade Goody Effect' has worn off."
To encourage you even more Mane Envy will offer you a FREE blowdry, no strings attached, no hidden agenda; just prove to us you have booked and attended your smear, note from the Doc or clinic an email confirmation anything, please let's share this post even if it makes just one woman go I'll be delighted.
The Irish Cancer Society were made aware of Gillian's gesture, and brought it to the attention of The Coombe Hospital and Trinity College.
Gillian and her mother were then invited to participate in a workshop which was being held in conjunction with European Cervical Cancer Prevention Week.
8. Miggeldy's St Patrick's Day speech
In March, President Michael D Higgins brought those at home and abroad to tears with a speech which highlighted the accomplishments of the Irish around the globe and the importance of maintaining familial ties.
We're not about to give a synopsis, you can – and should – watch it in its entirety here.
Source: Áras an Uachtaráin/YouTube
9. Twitter's response to Ben Bulben's 'no'
Back in May, the north side of the Ben Bulben mountain in Sligo was festooned with an enormous 'No' in response to the referendum on the 8th Amendment.
Naturally, people around the country were far from happy about this, and busily went about fixing it as they saw fit.
And the result? A much-needed laugh in the midst of what was easily one of the most emotionally draining periods in recent Irish history.

10. The honourary Rose of Tralee
Nora Hawkes warmed the cockles of everyone's heart in both Tralee, and the wider world when she was crowned an honourary Rose of Tralee during this year's festival.
London Rose, Gráinne Hawkes, saw an opportunity to honour her 98-year-old grandmother, and she took it with both hands.
If there was room for a 58th Rose, it would be my 98-year-old grandmother, Nora Hawkes.
Nora, you legend.
11. The response to the majority 'Yes' vote on the Referendum on the Eighth Amendment.
The pictures say it all, really.
Source: Rolling News/Sam Boal
Source: Rolling News/Sam Boal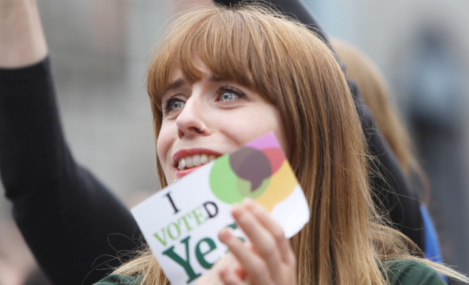 Source: Rolling News/Leah Farrell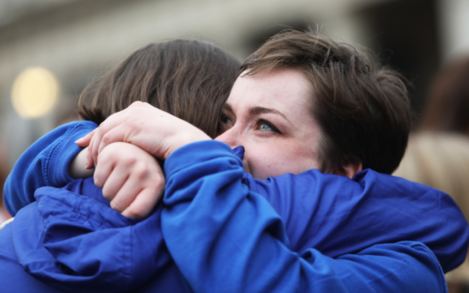 Source: Rolling News/Leah Farrell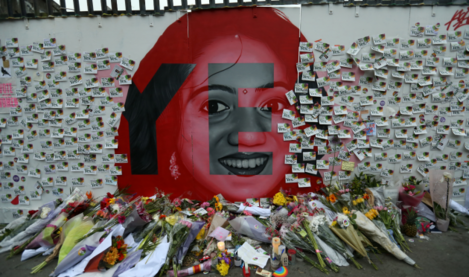 Source: Rolling News/Sam Boal
Now look, you're going to have to bear with us here.
After reflecting on the last 11 moments, we're emotionally fragile right now, and this final one is enough to send us over the edge entirely.
In July, Dublin Bus celebrated Pride by ferrying the proudest dads you'll ever see in most fabulous bus you'll ever see to their children's doorsteps in order to accompany them to the parade. 
And yes, we're officially in bits.
Here's to some more amazing moments in 2019.
DailyEdge is on Instagram!