Source: Tony O'Connor/Twitter
FOR MANY IRISH people, today marks the *true* beginning of the Christmas season. Why's that, you ask?
Because Christmas FM commences broadcasting this afternoon!
Source: Giphy
The station, which will raise much needed funds for Focus Ireland, officially launches at 1pm this afternoon. (A full list of FM frequencies can be found here.)
It may only be November, but people are besides themselves with glee
Because truly nothing says, "It's Christmas!" like tuning Christmas FM into your car radio
Just hear those sleigh bells jinglin', ring-ting-tinglin' too…
Source: Paddy Cunningham/Twitter
And nothing brings you more joy than listening to cheesy Christmas songs
Whether it's Britney Spears or Brenda Lee, Bing Crosby or Mariah Carey, you're here for it all. (Sure, haven't you been listening to All I Want For Christmas Is You since the beginning of November?)
Source: Christmas FM
The absolute joy when you walk into a shop and they're playing Christmas FM
Fact: Christmas FM makes every mundane activity infinitely more bearable. And it takes the stress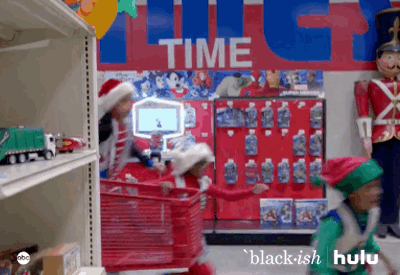 Source: Giphy
Plus now that Christmas FM has launched, it gives you permission to go full blown Christmas
Put the tree up, iron the Christmas jumper and stick tinsel up around your office desk.
CHRISTMAS HAS ARRIVED!
Merry Christmas, one and all!
Source: Giphy
DailyEdge is on Snapchat! Tap the button below to add!