YESTERDAY, COURTENEY COX added her voice to the debate surrounding Ireland's current abortion laws.
Source: PA Images
Showing her support for the Pro-Choice campaign, the former Friends star shared a video urging the public to vote to repeal the 8th Amendment on Friday May 25.
Choosing to let the video speak for itself, the 53-year-old simply captioned her post: "Repeal the Eighth'.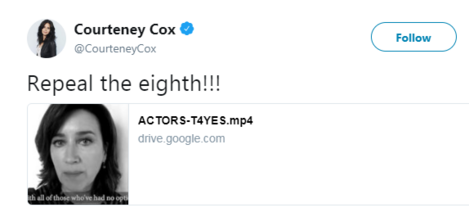 Source: CourteneyCox/Twitter
Courteney's post comes just days after fellow sitcom actress, Sarah Hyland, lent her support to the Yes side, with a lengthier post.
I am a woman. I am Irish. I have a slew of health complications that COULD put me in a situation where I would be forced to make a heartbreaking decision. If I was a resident of Ireland, the laws in place would kill me. I understand this all too well. #repealthe8th @Together4yes
Courteney, who is engaged to Derry-native and Snow Patrol member Johnny McDaid, has attracted considerable attention from the Irish public, with thousands liking and retweeting the star's sentiments.
Source: PA Images
And with Snow Patrol frontman, Gary Lightbody, calling for a Yes vote in the referendum, it wasn't long before some spotted an opportunity for a Pro-Choice campaign track.
Take a look…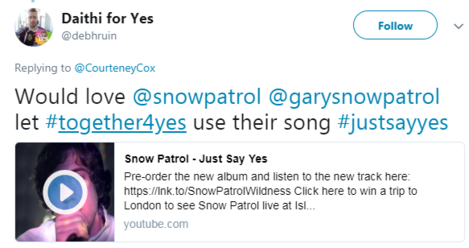 Source: debhruin/Twitter

Source: dami1936/Twitter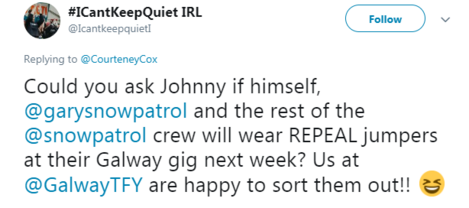 Source: IcantkeepquietI/Twitter
And then there were these…
Source: amyohconnor/Twitter
Source: lornamurphy87/Twitter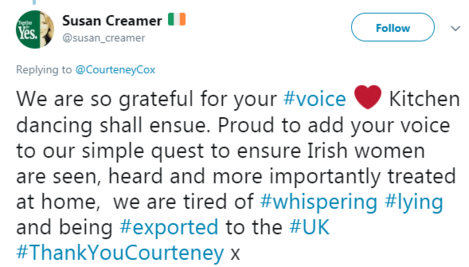 Source: susan_creamer/Twitter
And finally…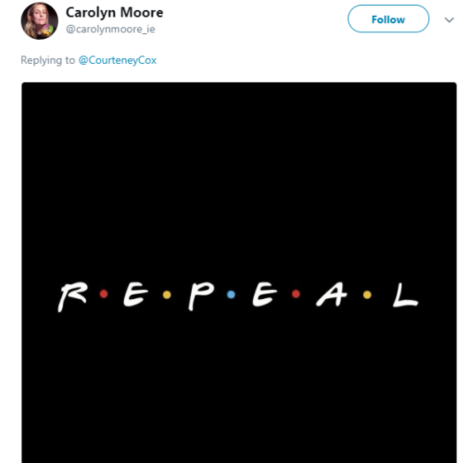 Source: carolynmoore_ie/Twitter
DailyEdge is on Instagram!