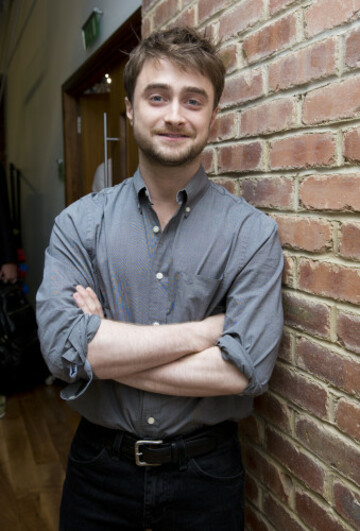 Source: PA Archive/PA Images
HARRY POTTER STAR Daniel Radcliffe has shared his feelings about the Johnny Depp casting controversy in the Harry Potter spinoff Fantastic Beasts: The Crimes of Grindelwald.
Speaking to Entertainment Weekly, the actor said it's hard for him to work out his feelings about the entire situation. On one hand, he wants to support the producers who gae him "a great start in life and an amazing job", but on the other hand, he totally understands the frustration fans are feeling.
Source: Ian West
I can see why people are frustrated with the response that they were given from that… I'm not saying anything that anybody hasn't already said – and this is a weird analogy to draw – but in the NFL, there are lots of players arrested for smoking weed and there is other people's behaviour that goes way beyond that and it's tolerated because they're very famous players.
Referring to when actor Jamie Waylett, who played Crabbe in the Harry Potter franchise, until he was fired and arrested for growing cannabis, Radcliffe continued:
I suppose the thing I was struck by was, we did have a guy who was reprimanded for weed [on the original franchise], essentially, so what Johnny has been accused of is much greater than that.
Waylett was fired from the series after six films. Rowling's response to the casting of Johnny Depp was that "based on her understanding of the circumstances" she was "not only comfortable sticking with" the casting, "but genuinely happy to have Johnny playing a major character in the movies."
Fans were pleased with Radcliffe voicing this opinion.
Source: Lauren Welch/Twitter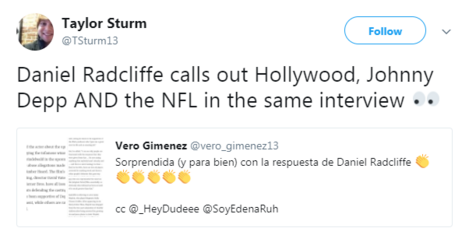 Source: Taylor Strum/Twitter
Source: Sars/Twitter
DailyEdge is on Instagram!