TIGHTROPE WALKER Nik Wallenda is to attempt a daring crossing of the Niagara Falls tonight. If he succeeds, he will be the first person to walk across the brink of the falls on a tightrope.
Wallenda was given permission for the controversial stunt back in February, after the Niagara Parks Commission voted unanimously to approve his attempt. The commission had previously refused to grant permission.
As part of the conditions for approval, the commission says it will only consider requests to perform similar stunts once every 20 years.
Wallenda is part of the famous 'Flying Wallendas' family which has been performing daredevil tightrope stunts for seven generations. The family became famous in the 1940s for their seven-person chair pyramid act on the high wire. However, this act ended in tragedy in 1962 when the performers faltered, sending two men to their deaths and paralysing a third.
Nik's great-grandfather Karl Wallenda, 73, died while performing a tightrope walk in San Juan, Puerto Rico. Last summer, Nik Wallenda completed that tightrope walk with his mother Delilah in Karl's memory.
Wallenda, 33, says he has spent the last two years preparing for the Niagara stunt – and lobbying the Canadian and US authorities for permission to carry it out. He has been appealing for donations to help him in raising funds for the wire walk because he has pledged to cover all of the costs of the event himself. ABC television is sponsoring some of the $1.3 million cost – but on the condition that they air it live and that Wallenda wears a tether that will keep him out of the water (though it won't keep him on the wire).
He says that the 550-metre walk should take about 40 minutes, depending on conditions, and he faces a downhill walk for the first half as he walks towards the centre of the gorge, followed by an uphill second half. The walk is expected to start at around 10pm local time (3am Irish time).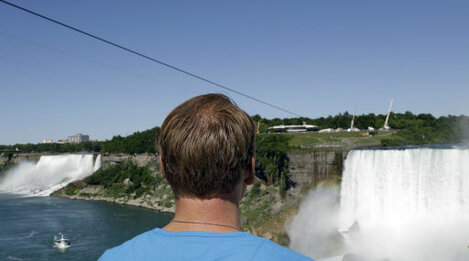 Nik Wallenda looks at the tightrope cable in Niagara Falls, Canada on Wednesday. (AP Photo/David Duprey/PA)
- Additional reporting by the AP