THE ELF ON THE Shelf has really taken off over here this year – you can't turn around without seeing him leering down at you from some shop window or other.
Some parents construct elaborate scenarios with the Elf for their children to enjoy, but Dealz has pushed the envelope just a bit with their version.
Over the past few days, the retailer has released an ad campaign of sorts on Facebook featuring the Elf in a variety of compromising positions.
Here he is playing strip poker:
Source: Facebook/Dealz Ireland
Drawing boobs on a car's frozen windscreen:
Source: Facebook/Dealz Ireland
Battling Darth Vader with a Dealz-brand vibrator (they sell sex toys now don't you know):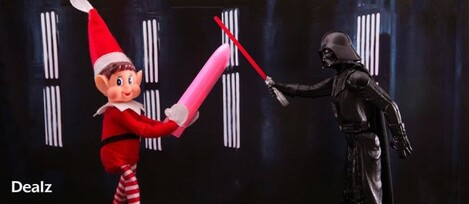 Source: Facebook/Dealz Ireland
And doing things that we can barely even talk about, we're so scandalised.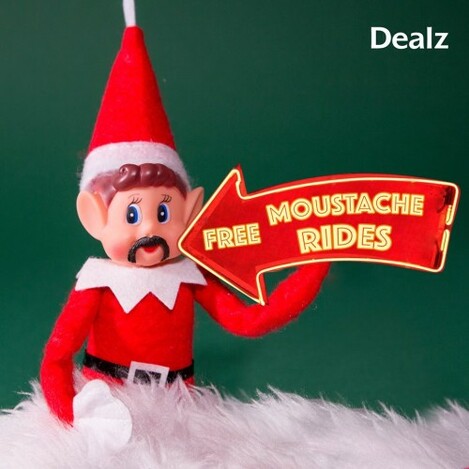 Source: Facebook/Dealz Ireland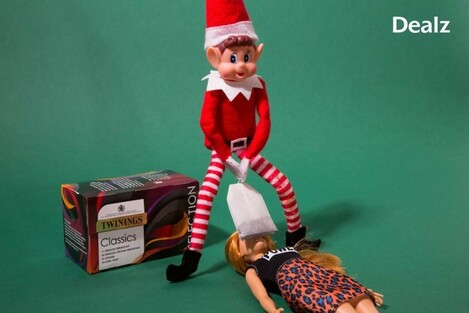 Source: Facebook/Dealz Ireland
The last one has, maybe unsurprisingly, gone a bit viral on social media – and some people appear to think it's gone past cheeky and into "inappropriate" territory.
Bit far Dealz considering he's a child's toy
I've had to unfollow it's disgusting these are elves for kids needs to be taken down
They are making a show of themselves as a retailer with the elf posts. Seems like their marketing person's into porn… It's ridiculous
Others are appreciating the adult joke, while still more are confused as to why "an elf with a tea bag and a Barbie" might be construed as offensive, to which we say: Bless their hearts.
What do you think – have they taken it too far?

Poll Results:
Yes, it's inappropriate
(1112)
Can't talk, bleaching that teabag one from my brain
(423)
DailyEdge is on Instagram!