A FEW DAYS ago, it was revealed that Dublin ranks among the most expensive cities to live in Europe.
Of course this won't come as a surprise to anyone that lives here…
1. Dublin: the city where people are charged nearly €3 for a bottle of water
Sure doesn't it fall from the sky, etc.
2. And where protein bars are a frankly extortionate price
€4.40!
3. A city where restaurants have the gall to charge €8 for a bowl of porridge
Your mother would be appalled.

Source: Wanderlust
4. And fancy hotels think €35 is reasonable for an Irish breakfast
€40 if you count the room service charge.
Source: Merrion Hotel
5. Dublin: where €775,000 will get you a three-bed semi-detached house
Source: Daft.ie
While you can get a private cottage overlooking an enormous lake for less in Co. Cork
Source: Daft.ie
6. Dublin: where you can expect to pay €800 for the privilege of sharing a house with strangers
7. After you've paid nearly a fiver for a tiny chicken fillet
TO SAY NOTHING OF THE COUSCOUS.
8. And €10.60 for a glass of white wine
Wonderful.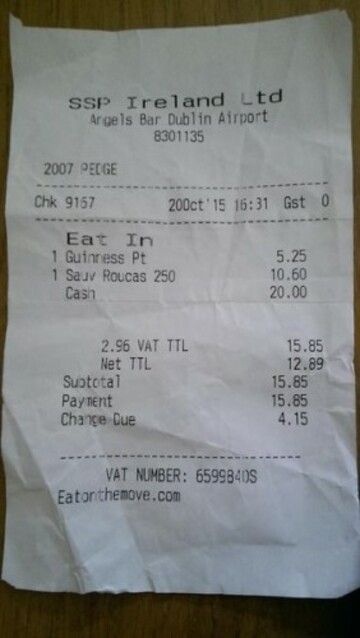 Source: Neil Fullerton/Twitter
9. Where a queue to get into Jo Malone to be expected
Source: Suzanne Sheridan/Twitter
10. And you can expect to pay four quid for what is essentially stock
¯\_(ツ)_/¯
11. Nothing says 'Celtic Tiger' like 'delivery doggy treat'
Source: Camile Thai/Twitter
12. Or a €12 box of cereal
13. And can we talk about the cocktails?
Lads, take it down a notch.
Source: Fifi Hyde/Twitter
14. The most notions-y thing of all, though? ATMs refusing to give out smaller denominations
Jesus wept.
DailyEdge is on Snapchat! Tap the button below to add!