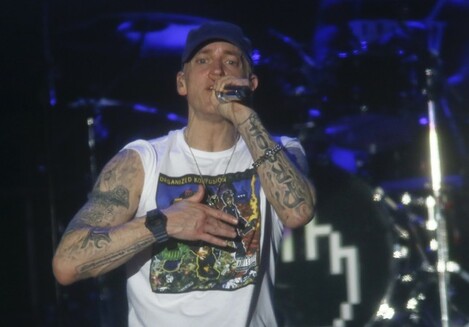 Source: AP/Press Association Images
EMINEM HAS COME under fire for controversial lyrics in a newly released freestyle.
In Shady Cxpher, the freestyle in question, Eminem alludes to NFL player Ray Rice, who was dropped from Baltimore Ravens after CCTV footage of him assaulting his then-fiancé Janay Rice surfaced.
In the verse, Eminem threatens to do the same to Lana Del Rey, who has previously described herself as a fan of the rapper.
Here are the offending lyrics:
Play nice? Bitch, I'll punch Lana Del Rey right in the face twice, like Ray Rice in broad daylight in the plain sight of the elevator surveillance/ 'Til her head is banging on the railing, then celebrate with the Ravens
Many have taken to Twitter to express their dismay at the violent lyrics, which have been widely condemned as condoning domestic violence.
While many have pointed out that this isn't the first time Eminem could be accused of being misogynistic.
This isn't the first time Eminem has targeted a female artist in his music.
Back in 2000, after Christina Aguilera described him as "abusive," he included the lyric "Causin' terror to Christina Aguilera / When I grab her by the hair and drag her across the Sahara" in a song called Off The Wall.
Lana Del Rey has yet to address or respond to Eminem's lyrics.