WINNERS ALRIGHT at last night's Emmy TV awards in LA – but everyone knows you don't have to pick up a gong to be #winning, as Charlie Sheen proved. Although he did have us wondering what he was going to come out with when he began to address the cast and crew of Two and a Half Men…
#WINNING:
Charlie Sheen reaching out to his former colleagues on Two and a Half Men:

Julian Fellowes' wife for having the kahunas to fashion a turban out of a scarf for her close-up during the husband's acceptance speech (via PrimetimeEmmys):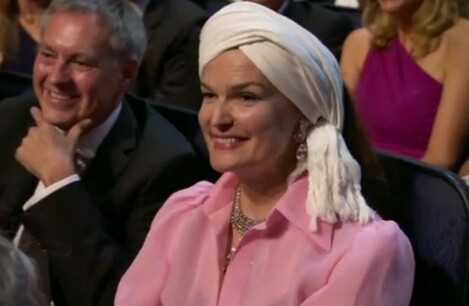 The writers of the intro sequence which allowed host Jane Lynch to call it "stupid and schlocky and already feels overly long" and seduce Peggy Olsen from Mad Men. And for the Mad Men interlude itself which reminded us of how much we LOVE that show (see from 4:25):

Kiernan Shipka: The most adorable backstage acceptance speech came from the kid who plays Don Draper's daughter Sally. AND she dresses like the 11-year-old she is. Cuteness.

Melissa McCarthy, lead actress in a comedy series for Mike and Molly, got to give a beauty pageant-esque speech that didn't actually make us want to hurl.

#LOSING:
Guy Pearce, who won supporting actor in a miniseries or movie, but made us feel a bit… 'ick'… with his double entendres to Kate Winslet:

Ashton Kutcher, who went to give Margo Martindale a hand up to the stage to accept the gong for outstanding supporting actress in a drama series but was too slow and beaten to the gentlemanly punch by Modern Family's Ed O'Neill. The official Emmys video cuts that bit – but Margo's touching speech is a joy to watch.
Fox TV didn't cover itself in glory when Deadline.com confirmed the broadcaster had pulled an Alec Baldwin joke about hacking at NewsCorp outlets in a pre-recorded item. His tweet about it: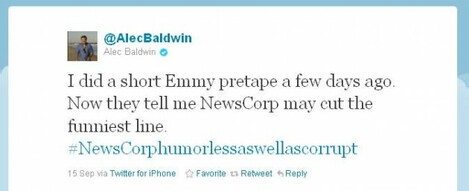 Not to disrespect the annual 'In memoriam' bit, but how are you feeling about this dry ice-drenched performance of Hallelujah? Anyone else put off by the pleather jacket of the a capella singer on the far right? And the faux-sincere vocals? Okay, just us then: