A LIST OF words that are emotions people feel, but can't explain, is going viral today. Why? They are a WHOLE NEW WORLD.
Have you ever experienced a subtle but persistent feeling of being out of place? Felt the amniotic tranquility of being indoors during a thunderstorm? Had a desire to care less about things?
If so, you've experienced monachopsis, chrysalism, and liberosis.
The list started to go viral when Tumblr user tai-korczak posted it on the blogging site last week and got the attention of FreddyAmazin who tweeted it out to his 3.5 million followers.
The list originally came from Buzzfeed (despite credit given to website iheartintelligence), but a screenshot of the tumblr post uploaded yesterday has almost a million views on Imgur.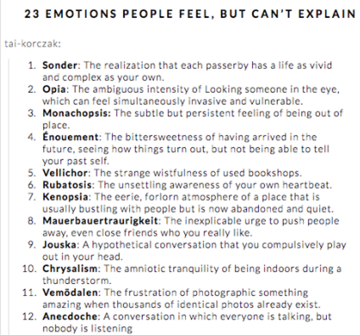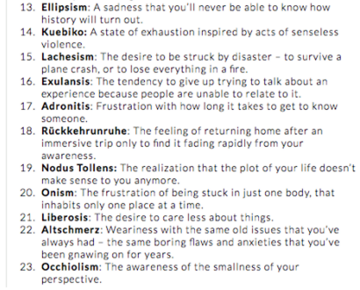 The words were compiled from John Koenigs Dictionary of Obscure Sorrows, a website he has been running since 2009. His aim is to compile a lexicon for feelings and emotions we all experience but don't yet have a word for.
While they're essentially made up, Koenig says:
Each word actually means something etymologically, having been built from one of a dozen languages or renovated jargon.
Judging by the appeal of these 23 examples, the feeling is certainly universal.