IRELAND'S GOT TALENT kicked off on TV3 last night – and if you thought it wouldn't match its predecessor in the UK for emotion and spectacle, you were incorrect.
Source: YouTube
Evelyn Williams is an 81-year-old great-grandmother from Tallaght who has been singing all her life. Encouraged by her granddaughter, and in memory of her late husband, she signed up to audition for the show.
I miss him like a limb. Seven years nearly now. He was a good man… He used to love to hear me sing. I used to sing to them all.
Evelyn sang Send In The Clowns from the Stephen Sondheim musical A Little Night Music, and there was not a dry eye in the house:
Source: Ireland's Got Talent/YouTube
Evelyn got a standing ovation from the audience and the judges, with Michelle Visage pressing the golden buzzer to send her straight through to the semi-final.
Explaining her decision, Michelle said: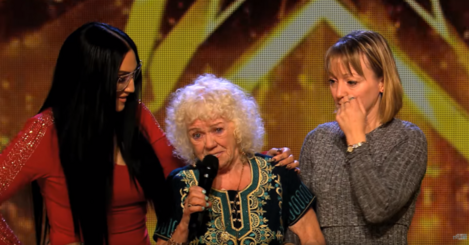 Source: YouTube
There is such life in this woman. She stood up here and commanded this stage better than anyone we've yet seen on this show. She's a storyteller.
She sang one of the most incredible Stephen Sondheim songs ever written, only meant to be sung by a woman this age who has lived a life. And she sang it with love, and that just killed me.
Even after all that, Evelyn reckoned she "could have sung better" – but everyone thought she was just perfect as is.
We can't wait to see what she does next. Congratulations Evelyn! You're a star.
DailyEdge is on Instagram!