LAST YEAR A brand new festival called All Together Now took place in Waterford's Curraghmore Estate, and it was unlike anything Ireland has seen for years.
This week, the festival released their first major lineup announcement for this summer's festival and with The National, Patti Smith, Hot Chip, Neneh Cherry and Loyle Carner on the list of headliners, it looks like this year's festival will be just as good, if not better, than last year's. All it's missing is a bit of Róisín Murphy.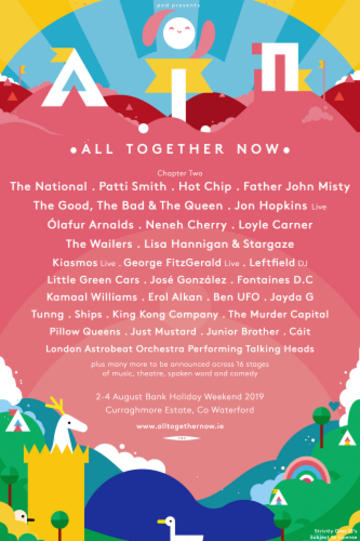 Source: All Together Now
Of the thirty acts that POD announced for All Together Now 2019, ten are Irish acts that never disappoint. If you're on the fence about the lineup because you're not familiar with any of the acts below the fourth line, you'll be swayed once you give a few of these a go. 
1. Fontaines D.C
NME simply cannot shut up about these lads, and with good reason. They toured the UK with Shame and by the time All Together Now rolls around, they will have toured the United States with IDLES, a British band who made a massive impact in 2018. 
Source: Fontaines DC/YouTube
2. The Murder Capital 
Before The Murder Capital had even made a release, plenty of music publications were hyping them up based solely on the impression they got from a live session on Youtube. Luckily for you, they've finally recorded some music, but the live session is still worth a watch. Thanks to The Murder Capital and Fontaines D.C, NME are calling Ireland the new home of punk. 
Source: SOMA Dublin/YouTube
3. Ships
A tad different to the last two acts, Ships are a Dublin duo who have been making music since 2012. In 2018, they won the Choice Music Prize for Best Irish Album of the Year for their record Precession, and took home a handy €10,000 prize for their work. They don't just hand those awards out for nothing! 
Source: ShipsMusicDublin/YouTube
4. King Kong Company
King Kong Company have an award that certifies they are the Best Live Act in Ireland at present. Their music seems made for festivals, and Waterford is their hometown. A winning combination. 
Source: King Kong Company/YouTube
5. Pillow Queens
Pillow Queens have been together since 2016, and in that time, they have done a lot. Sold out shows in Ireland, toured the UK and put together a number of genuinely brilliant music videos. To date, they haven't received a write-up from a single critic who wasn't absolutely enamored by their charm and catchiness. They've played basically every Irish festival you can think of (bar ATN) and always manage to draw out a solid crowd of their loyal fan-base. Maybe you will be part of that loyal fan-base in six months time. 
Source: Pillow Queens/YouTube
6. Just Mustard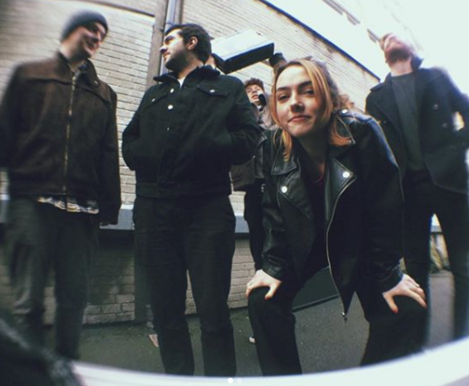 Source: Just Mustard/Instagram
This Dundalk five-piece are, to put it simply, unreal. In Pigs one vocalist basically manages to do what it took three different singers in Warpaint to do, and while it is much darker, it's somehow just as dreamy. 
Not all of their music is reminiscent of Warpaint's (although, there certainly wouldn't be a problem if it was, because Warpaint are class). There's definitely quite a bit of variety on their debut LP Wednesday. The intro to the first track has a bit of a Sonic Youth vibe, which is obviously a pretty big jump from Warpaint.
When NME were pointing to Fontaines D.C and The Murder Capital to show the UK how good Ireland's music scene currently is, they also gave a solid (and deserved) nod to Just Mustard. 
Source: Just Mustard/YouTube
7. Junior Brother
Junior Brother is the stage name of Kerry-man Ronan Kealy. It's difficult to describe his music, but the closest he has ever gotten to it was calling it 'alternative Irish folk', before telling The Irish Examiner, "I'd prefer to leave a description of my music simple and let the listener then come up with their own take." So, off you go. 
Source: Junior Brother/YouTube
8. Cáit 
Cáit is an Irish DJ, who is one third of the collective DIP (you can hear them on Raidió na Life every Monday from 9-10pm). Although mainly based in Ireland, she has played a few gigs in the UK and Berlin. If you're looking for a nice bop at ATN, keep an eye out for her name on the timetable. Here's a recent set from Dublin Digital Radio to give you an idea of what you're in for:
9. Lisa Hannigan and s t a r g a z e 
We left this one until the end because Lisa Hannigan's pretty well known in Ireland already. She began her career as a member of Damien Rice's band and featured on the hit song 9 Crimes, before she parted ways and began a solo career in Dublin in 2007. In the decade since, her debut album received glowing reviews in The New York Times and The Los Angeles Times, and Hannigan went on to produce her third album with Aaron Dessner from The National. 
At All Together Now, Lisa will be performing alongside s t a r g a z e, a network of multi-talented and classically trained European musicians. Here's what that's gonna sound like:
Source: Lisa Hannigan/YouTube
10. Little Green Cars
Like Lisa Hannigan, Little Green Cars had to wait until the end of the list because they're already quite popular in Ireland. Formed in 2008, they've spent the last eleven years touring the UK and the North America, as well as Ireland, of course. They were even on Late Night with Jimmy Fallon pretty early on in their career. 
Source: LittleGreenCarsVEVO/YouTube
DailyEdge is on Instagram!