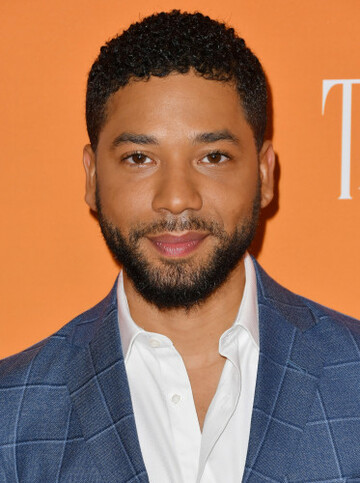 Source: SIPA USA/PA Images
WHEN IT WAS announced that Empire star Jussie Smollett had been hospitalised after an assault on the 29th of January, both fans and celebrities like Ellen DeGeneres, Emma Watson and Jonathan Van Ness rushed to the internet to send the 36-year-old messages of support and concern. 
Over the last few weeks, the story has taken a pretty bizarre turn, and nobody really knows what's going on at the moment, apart from the fact that the case will now be brought before a grand jury. If you want to try and make sense of the situation, here's your explainer. E!News put together a very useful and comprehensive timeline, which they are updating as further news breaks, but here are the main points:
January 22nd: Jussie Smollett receives a threatening letter. 
This letter contained a homophobic death threat, made of letters cut from magazines and newspapers and was sent to the Fox studio where Empire was filmed. It contained a white powder, so HAZMAT were called in. It was later determined that the white powder was crushed aspirin. 

January 29th: The attack on Smollett. 
Chicago police opened a hate crime investigation after 36-year-old Smollett reported being attacked in Chicago at 2am, as he walked home. Smollett told police two men wearing ski masks and shouting racial and homophobic slurs assaulted him and poured bleach on him, before wrapping a noose around his neck. In a supplementary interview with police after his initial statement, Jussie Smollett told police that his attackers told him, "This is MAGA country." 
 January 30th: Police release photos of "people of interest" who were in the area at the time of Jussie's attack. 
 January 31st: A Chicago police spokesperson said that authorities were called 30 – 40 minutes after the incident occurred. 
At this stage, Jussie's family said: 
We want to be clear, this was a racial and homophobic hate crime. Jussie has told the police everything from the very beginning. His story has never changed and we are hopeful they will find these men and bring them to justice. 
February 11th: Smollett voluntarily gave police a PDF file of his phone records.
Fearing that sharing full access to his messages, contacts, videos and pictures could put his friends, family and co-workers at risk of having their privacy violated, Jussie redacted information from this PDF. Jussie's rep told NBC Chicago:
Jussie is the victim here, which has been slated by the Superintendent of Police. Jussie has voluntarily provided his phone records from within an hour of the attack and given multiple statements to police. Chicago PD has repeatedly informed us that they find Jussie's account of what happened that night consistent and credible. 
February 13th: Police arrested and detained two brothers entering Chicago on a flight home from Nigeria. 
These two brothers, Olabinjo and Abimbola Osundairo, were then questioned as suspects. According to AP News, "Police learned at least one [of these men] worked on Empire." 
February 14th: Jussie explained why he waited so long to call police after his attack. 
In an interview with ABC News, Smollett said: 
There's a level of pride there. We live in a society where, as a gay man, you are considered somehow, to be weak, and I'm not weak. I am not weak. And we, as a people are not weak. 
After skeptics asked why Jussie arrived to the hospital still wearing the noose put on him by attackers, he also cleared that up in the ABC News interview, telling the network:
I smelled bleach, I know the smell of bleach, and I saw on my sweatshirt, it had marks on it, like spots on it when you have a bad bleach job. I was like, there's bleach on me too. So when the police came, I kept the clothes on, I kept the rope… It wasn't like wrapped around but yeah it was around because I wanted them to see. I wanted them to see what this was. 
Also on February 14th: Sources began to tell ABC News that the attack was 'staged'. 
According to ABC News, sources claimed that Chicago PD were investigating whether Smollett and the Osundairo brothers "staged the attack allegedly because Smollett was being written off of Empire." 
Fox intervened and said that "The idea that Jussie Smollett has been, or would be, written off of Empire is patently ridiculous. He remains a core player on this very successful series and we continue to stand behind him." 
Source: SIPA USA/PA Images
Chicago Police also released a statement on Twitter, saying that they have contacted ABC News to "state on the record that we have no evidence to support their reporting and their supposed CPD sources", adding that these claims are "uninformed and inaccurate", and that "Media reports about the Empire incident being a hoax are unconfirmed by case detectives." 
Chicago PD told E!News, "While we haven't found any video documenting the alleged attack, there is also no evidence to say that this is a hoax. The alleged victim is being cooperative at this time and continues to be treated as a victim, not a suspect." 
February 15th: The Osundairo brothers are released without any charges. 
Chicago Police Department followed their release up with an update on Twitter, informing the public that the interrogations resulted in the production of "new evidence" which leaves detectives with "additional investigative work to complete." 
Olabinjo and Abimbola Osundairo had their lawyer release a statement to CBS Chicago, saying that they did not understand how or why they had been linked to the crime. Their lawyer added, "They know that evidence is going to prove them innocent. They send their best to Jussie." 
February 16th: Olabinjo and Abimbola agreed to cooperate fully with authorities after police found evidence that the men had purchased the rope that was found around Smollett's neck. 
CNN reported that there were records showing that the two men had purchased that rope in a Chicago hardware store. 
Smollett's attorneys later released a statement saying:
As the victim of a hate crime who has cooperated with the police investigation, Jussie Smollett is angered and devastated by recent reports that the perpetrators are individuals he is familiar with. He has no been further victimized by claims attributed to these alleged perpetrators that Jussie played a role in his own attack. Nothing is further from the truth and anyone claiming otherwise is lying. 
Over the weekend, a spokesperson for Chicago Police Department said that they were currently trying to arrange another follow-up interview with Jussie Smollett. CPD also tweeted: 
We are not in a position to confirm, deny or comment on the validity of what's been unofficially released.
They added that "Detectives have some follow-ups to complete which include speaking to the individual who reported the incident." 
February 18th: Further claims were made, suggesting that this was a hoax.
CBS Chicago quoted an anonymous source who said Jussie was upset that there wasn't a 'bigger reaction' to the racist letter he received on the 22nd of January. One of the pieces of evidence retrieved from Olabinjo and Abimbola's homes was a magazine believed to be related to the letter. This source said, "When the letter didn't get enough attention, he concocted the staged attack." 
However, it's worth noting that there were similar sources claiming that Smollett was set to be axed from Empire, a claim that was later refuted by Fox. 
Jussie's legal team did not make any comment on these further claims, and said "We are not going to respond to every new, anonymous accusation or rumour." 
Gloria Schmidt, the lawyer of Olabinjo and Abimbola Osundairo told the Chicago Tribute, "There's still a lot of moving parts to this… I'm not part of Jussie's defense. I'm not part of what's going on with him. I can just tell you that my guys are innocent of the charge and they're going home." 
So, what's the story with all of this 'grand jury' talk?
According to TMZ (make what you will of that source), Jussie's case will be brought before a jury but it is not yet clear "who will be facing charges or what those charges might be". As a result, the trial has been delayed as police gather the records needed to help the jury come to a decision on the case. 
TMZ claimed that the trial in front of a grand jury will "target the actor", for "allegedly filing a false police report." None of this has been confirmed by any official source yet, however. Chicago Police Department are still adamant that they will not respond to any claims made through unofficial sources. Smollett's lawyers still deny that he had anything to do with the attack. 
DailyEdge is on Instagram!