IN TODAY'S WORLD, it's simply not possible to have a major incident take place anywhere in a populated area of the planet without it being documented in some way online.
Whether it's through Twitter, Facebook, Instagram or another social network, people are used to sharing photographs of their daily meals, sunrises, and other common (and boring) sights. But when something like Superstorm Sandy comes around, there is an even more urgent need for people to snap and share what they see.
Sandy wreaked havoc in 15 states and led to almost 100 deaths, while knocking out power and water supplies on its way. With social networks being one way that people could keep up with their friends and family, people shared their view – but the fakes also spread as people clambered for up-to-date information.
Here are some of the most popular Sandy fakes, plus other examples of photos that people were suckered into believing were real, but weren't.
1.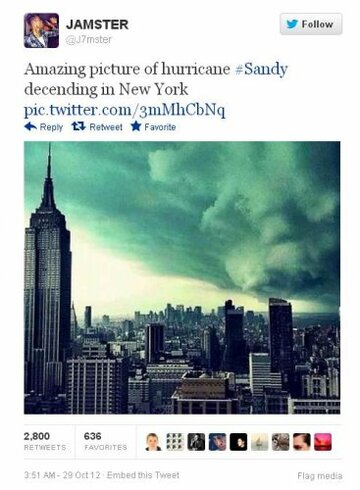 (Twitter)
This photo was real – but it was actually captured a year ago.
2.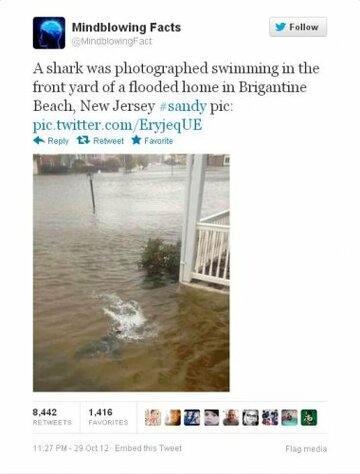 (Twitter)
A shark in New Jersey? Thankfully that was one thing the residents didn't have to put up with.
3.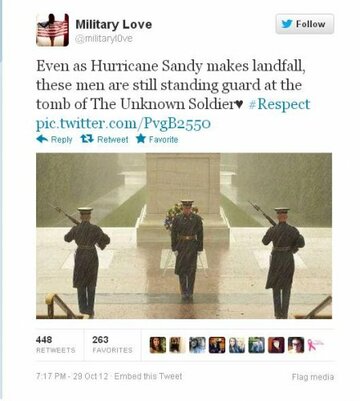 (Twitter)
This photo was not taken on the day the storm struck, as The Old Guard pointed out.
4.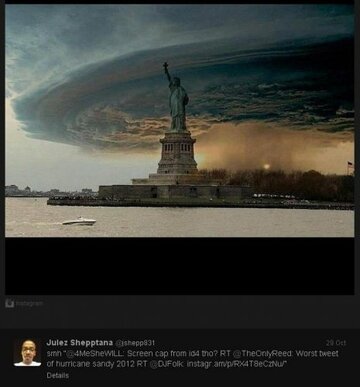 (Twitter)
This was as fake as it looked.
5.
(Twitter)
'Nuff said.
Prince Charles
Was Prince Charles really pictured chasing a young child? Afraid not - but the photo fooled quite a few people on Twitter: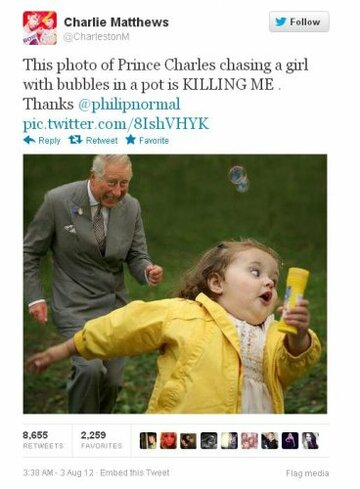 (Twitter)
The internet
Did the Sun scoff at the power of the invention of the internet in 1992?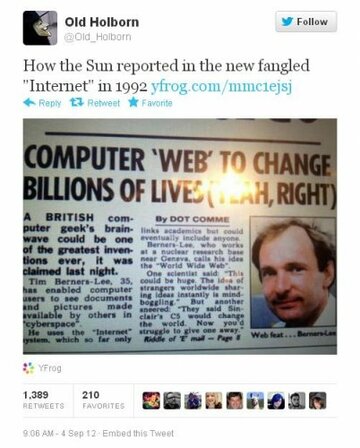 (Twitter)
Thanks to the always helpful blog Is Twitter Wrong?, it was discovered that the article in fact came from the paper's educational site where it creates mock front pages for historical events. The byline 'Dot Comme' should have been a bit of a hint...
Bray storm
Sticking with the weather theme, when a storm hit the east coast of Ireland in mid-August, there were some rather spectacular fake photographs doing the rounds...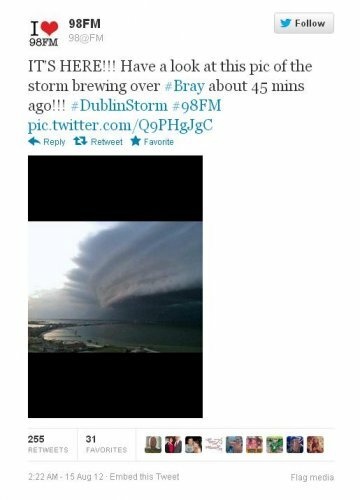 (Twitter)
Osama Bin Laden
When Osama Bin Laden was killed, gruesome photographs emerged within hours. But the disturbing photograph was quite obviously photoshopped, being a composite of two photos. The confirmation came, however, after it was used on the front of a number of British newspapers.
Proof that you can never be too careful when it comes to verifying photographs.