CHANCES ARE, YOU'VE been threatening to do a wardrobe clear out for just as long as I have. Yes, I am guilty of owning far too many clothes, most of which I haven't worn in quite some time.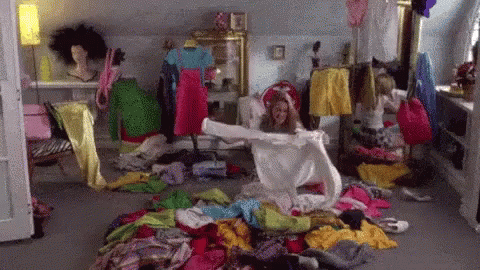 But I'm a hoarder - I admit it. I keep everything on the off-chance one day I might need it, when in reality it lives in the back corners of my drawers until I finally force myself to do a charity shop run.
And while I often guilt myself about not doing more regular clear-outs, I should be more focused on my buying habits.
I am no different to the majority of shoppers my age - I like to incorporate on-trend pieces into my wardrobe but I really don't want to have to sacrifice much money to do so, so naturally I end up spending most of my money in fast fashion stores.
Yes, up and down the high street are multiple fast fashion outlets that boast quick turn-around and low-costs, places like Zara, H&M and Penneys, and praise themselves for being able to create new pieces in as little as five weeks.
But traditional fast fashion brands are no longer able to keep the pace with online retailers who can have new styles up within days of us seeing the original high fashion garments on our Instagram feed.
Sites like PrettyLittleThing, Boohoo and Fashion Nova are all prime examples.
These lucrative brands make a lot of money from being the first to copy a celebrity look, something we were reminded of this week by Kim Kardashian.
The Kardashian/Jenners are prime targets of fast fashion brands with their outfit posts receiving millions of likes in the minutes after they've been uploaded.
Quickly these brands share their own pictures of their 'take' on the look and before you know it, the piece has sold out just days after it was originally seen on Kim, Kylie or one of the girls.
Earlier this week, Kim took to Instagram to show off a never-before-seen outfit that husband Kanye created for her for a trip she was taking to Miami.
She told fans as much before mentioning these fast fashion sites in the caption, saying:
"P.S. fast fashion brands, can you please wait until I wear this in real life before you knock it off?"
Let's make this a little more relatable.
Imagine you've just bought a seriously killer dress. You spent a little more than you should on it but you love it and know that it looks amazing on you. And best of all, you haven't seen anyone in your Insta-circle wearing it so you know you'd get that sweet pic for the gram that would have you lapping up the likes.
Then one night, your housemate is stuck for something to wear so she takes the dress - before you've had a chance to wear it btw - and wears it out, proceeding to post pic after pic of the item on her social media.
That sounds fairly shit, right? So, on that level, I can kind of understand Kim's premature annoyance. 
But obviously they didn't listen to her 'warning' because within days of Kim's post, Missguided and PrettyLittleThing were both promoting their near-identical replicas that they were selling for less than €40.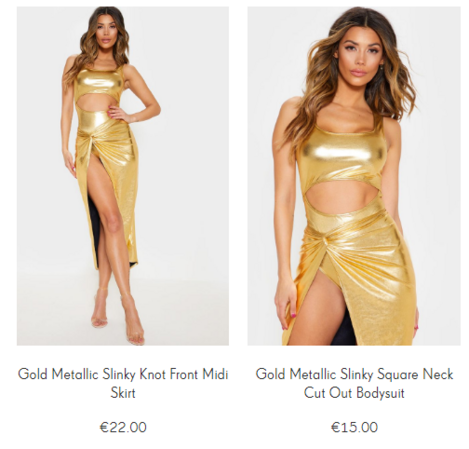 Source: PrettyLittleThing
Another great example of the quick turnaround these brands can have was last year for Kylie Jenner's 21st birthday party when she stepped out in three different looks and by the end of the weekend, Fashion Nova had models showing off their versions of Kylie's birthday looks for less to nothing. 
Source: Fashion Nova/Instagram
Similarly after the royal wedding last year, within hours of Meghan stepping out with her new husband in her second wedding dress, sites like Boohoo were promoting nearly identical looking gowns on their site for just €24. 
Source: PA Images, Boohoo
But how is it these brands get away with selling blatant copies of designer looks?
Well, loopholes around what constitutes design and identifying features mean fast fashion brands like PLT and Fashion Nova have a lot of wiggle room when it comes to recreating celebrity looks at a much cheaper price.
And aside from the legal side of things, there's obviously a serious ethical issue with many of these brands. 
The increasing affordability of clothes from these brands means consumers are buying more and more often, leaving a lot of these items going to waste - literally. 
According to McKinsey, in the past 15 years, clothing production has doubled to meet the increasing demand, with more than half of those items from fast fashion brands being thrown away after less than a year of wear. 
In 2015, the greenhouse gas emissions from textile production globally was more than that of all international flights and maritime shipping combined.
And of that clothing being produced, less than 1% of the materials used by fast fashion brands to create it is recycled into new clothing.
Source: Teen Vogue/YouTube
Now, all these arguments are pointing the blame firmly at the foot of these brands, on the assumption that they are working on their own and are just freakishly quick off the mark. 
However, many continue to point out the ongoing brand deals the Kardashian/Jenners have with most of these online fast fashion brands and question whether this is just some form of undisclosed collaboration between the two. 
Either way, you can see why many have serious issues with these so-called fast fashion brands. 
DailyEdge is on Instagram!