A TEENAGE GIRL who slapped a shop worker in the face with a large fish has apologised to her victim, UK police have confirmed.
In February, the girl approached the fish counter at an Asda store in Accrington, Lancashire.
She then began asking a shop worker, aged 52, about different kinds of fish.
Without warning she grabbed a large bream and slapped the worker across the face before running out of the store.
The victim believed the assault was filmed by a man standing nearby, who also ran from the scene when challenged by her co-worker.
The girl was described as being 'Irish, aged between 15 and 18, with blonde, shoulder-length, untidy hair'.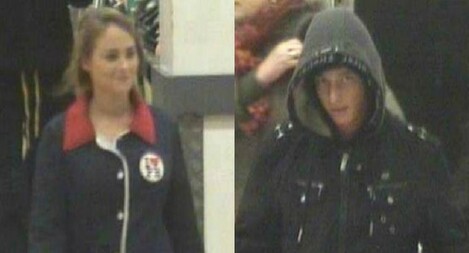 CCTV images of the two suspects Source: Lancashire Police
She was identified after police trawled through CCTV footage of the incident.
A police spokesman told the Lancashire Telegraph that the 13-year-old girl had been spoken to by officers and taken part in a 'community resolution' in which she sent her victim a letter of apology.
Justice has been served. With a side of tartar sauce, please.