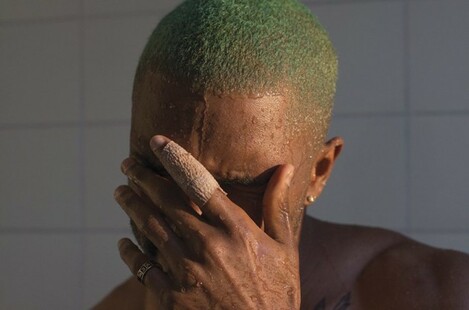 Source: Wolfgang Tilmans
 IF THERE'S ONE thing we know about Frank Ocean, it's that he's a very private individual. He doesn't do a lot of interviews, he never tells us when he's going to release an album and he largely keeps his personal life to himself. 
If there's another thing we know about Frank Ocean, it's that he has really nice skin. Look at him, for God's sake. 
The 31-year-old singer, songwriter and rapper took part in a lenghty interview with GQ this week, where he revealed that he has to put a bit of work in to keep his skin looking so healthy. 
To all of our luck, Frank follows a fairly simple routine. One that doesn't require loads of free time or the bank account of a celebrity. He started off by telling GQ:
Man, listen… Some days, like today, I feel very beautiful. But some days, like in the winter, when I wear a lot of knit hats, my skin doesn't like that. My mom told me years ago that you gotta get somebody to stitch the silk inside the lining of the cap so it doesn't irritate your skin, 'cause your skin is sensitive. I didn't listen to my mom, but I really do believe in night cream.
At this point, Frank pointed out that many men don't even bother with washing their faces before bed, never mind applying night cream. 
I feel like men just go to sleep. They may wash their face or they don't even bother – they go to sleep with the day face on. You really need to do a gentle wash and put a night moisturiser on. 
So, first things first, you've got to find a good, gentle, cleanser. Avoid abrasive cleansers or exfoliators with microbeads. If you don't know where to start or don't wanna put any research in, I'm just gonna go ahead and recommend Ultrabland from Lush, which I have explained the benefits of here. 
Frank then suggested that men should try use retinols, too. This is key. If you are new to all of this and you have no idea what a retinol is, Louise McSharry did a really handy skincare explainer for lazy people (let's be honest, most of us), where she wrote "Retinol, which is a derivitive of Vitamin A, is said to be one of the only things you can put on your face to actually stop the signs of visible ageing."
Louise recommends Pestle and Mortar's Superstar Retinol Night Oil, but people are also mad for The Ordinary's Retinol. You can pick both of these up in any good department store, but if you're here because you're new to this and you're a bit intimidated by going into the beauty hall (no shame in that), they're available online too. 
Frank Ocean continued:
You can't have the retinol in your creams in the days because it makes you more sun-sensitive, so you wanna throw that on at night. 
Following his routine makes Frank feel a lot more confident, he said. 
I need the night cream because when I wake up I feel very beautiful, moisturised and ready to have people making eye contact with me, ready to look above my eyebrow, below the eyebrow. [laughs] That's the life hack right there. 
DailyEdge is on Instagram!