THERE ARE PLENTY of deals out there in the run up to Ireland's first game in Euro 2016 for thirsty, nerve-wracked fans.
But one offer by Oscar's Bar in Dublin has caught people's attention this afternoon.
They're offering a free gin and tonic to any girl who can explain the offside rule to the bar staff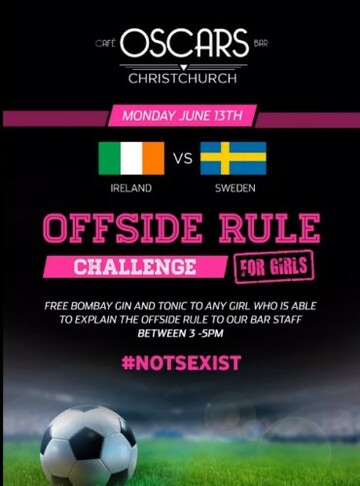 Source: Twitter
The offer – along with the hashtag #notsexist – didn't go down well with people on Twitter
Source: Twitter
And the promo list that accompanied it also came in for some criticism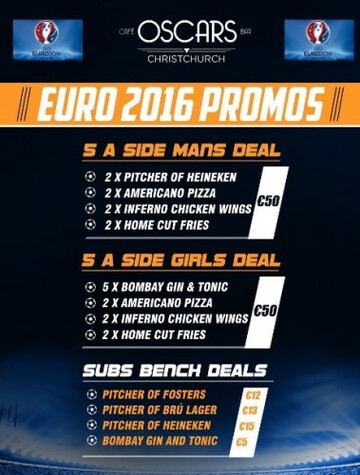 Source: Twitter
Mostly over the conflicting names of the specific deals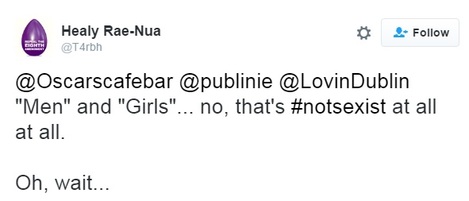 Source: Twitter
Bar manager Ronan told DailyEdge.ie how the offer came about:
Our own female staff came up with it, they were joking about how they didn't know the rule after work one night and thought we'd turn it into an offer.
We are well aware it is a sexist deal, and we're countering it next week with one for the boys.
People are convinced it's an intentionally provocative stunt:
It's 100% a joke. We're poking the bear. The bear in this case is the keyboard warriors.
The reaction online has been overwhelmingly negative so far
Focused mainly on the stereotyping involved
So now.
Two thumbs down from the Twitter public, then.
DailyEdge is on Snapchat! Tap the button below to add!