THIS IMAGE OF a man pleading for help after being 'duped' into taking on a Jack Russell that turned out to be a goat is currently doing the rounds online.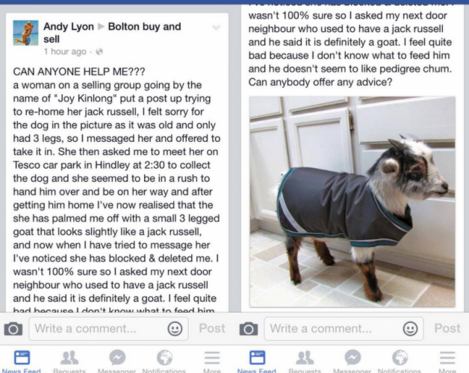 Source: @loujohnoX
Seems almost plausible, right? The goat looks a bit like a Jack Russell after all. If you overlook the… eh… horns. And the fact that it's a goat.
It's highly likely that this is nothing more than a prank, and here's why…
The post by 'Andy Lyons' appears to have been removed from the Bolton Buy and Sell Page
What do you have to hide Andy? Where's your goat that looks like a Jack Russell?
Source: Facebook
Andy might not have been the first person to post the story, and probably  won't be the last
Exhibit A: Mark Blackburn

Exhibit B: Andrew Thomas
And here's Andrew commenting on his own post:
Lol.
There's also Nick Inthehat Harrison
Source: @kraftyangels
And Chris Washington
And then there's the matter of the goat looking nothing like a Jack Russell
Preach.