AT ONE STAGE or another, we've all stumbled across the world of competitive eating on YouTube. 
Whether you deliberately looked it up, or just stumbled across one of those "30,000 Calorie Meal Challenge" suggestions in the sidebar of YouTube, we have all watched on with disgust, confusion and maybe even admiration as some of YouTube's most desperate users torture their bodies for AdSense money. 
Videos of people eating obnoxiously huge meals have been popular for a long time. Epic Meal Time was set up in 2010 and is, somehow, still going after all these years. Look into the eyes of the Epic Meal Time host and try tell me that this has not taken a massive toll on his spiritual well-being.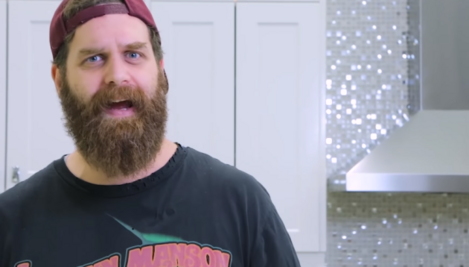 Source: Youtube
Of course, there are other areas of extreme eating on YouTube that are just as popular as the channels that solely feature people gorging on incomprehensible quantities of junk food. For example, a surefire way to get a lot of views is to film yourself eating something devastatingly spicy and suffering the consequences. Who could forget what happened to those two girls who ate a Carolina Reaper pepper?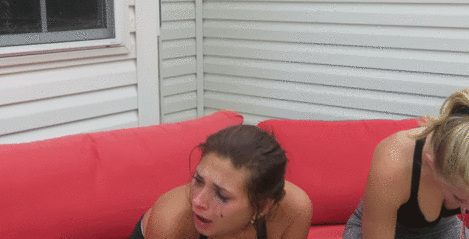 Source: Lizzy Wurst/Youtube
So naturally, a show that combines our strange compulsion to watch people eat things that they definitely shouldn't be eating with our love of celebrities is going to work really, really well. That's why Hot Ones on YouTube is so addictive.
Here's how the show works: host Sean Evans sits down with a celebrity and interviews them while they're eating chicken wings topped with a variety of sauces which rangefrom 2,200 on the Scoville scale to 2,000,000+ (the chilli that had that girl crying and reaching for her inhaler was rated at 2.2 million, so that's nothing to be sniffed at). If the celebrity manages to eat the final wing, they get to plug their new book/TV show/movie/whatever they're working on. 
In an early episode of the show, comedian Eric Andre really began to struggle, about halfway through the challenge.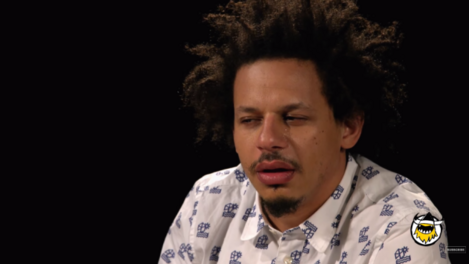 Source: Hot Ones/Youtube
Sean Evans told Eric that he didn't have to finish the challenge if he didn't want to, but Eric insisted "You've got to give the internet what they want." Things got so intense on the last wing that he smashed a plate over his head to distract himself from the pain.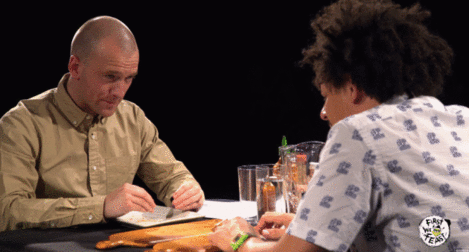 If that kind of madness isn't enough to make you feel like you should be watching it, then maybe Chrissy Teigen's episode will tempt you.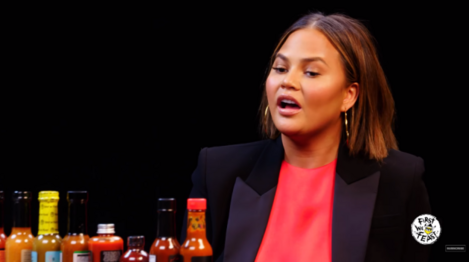 Source: Hot Ones/Youtube
Since Chrissy is a self-proclaimed "wing-freak, hot-sauce-freak, hot-wing-freak", you'd think this challenge would be a piece of cake for her. To step things up a notch, Chrissy decided to opt out of drinking milk at any stage during the challenge, instead just drinking water (which, if you have seen any videos of people eating spicy foods, isn't a great idea). 
In fact, she was so confident that she suggested doing the challenge backwards, starting with the 2,000,000+ Scoville hot sauce. Sean quickly talked her out of that, though. 
Over the course of 25 minutes, Chrissy Teigen makes her way through each hot wing, while sharing some fun facts from the red carpet with Sean, like how there are sniffer dogs at the after parties of many red carpet events, searching the celebs for drugs. Who'd have thought?
Source: First We Feast/YouTube
When she's about four wings in, Chrissy says she's full and asks if she can just 'lick the wing' instead, which proves that she's either out of her mind or just really, really tough.
Chrissy spoke about how she's well aware of the fact that there's a huge swathe of people out there who respond to everything she does by asking "who cares?" but noted that the one group of people who hate her most are cyclists. 
Chit-chat aside, Chrissy managed to pretty impressively lick every wing, and even ate a couple more along the way, which led to her drinking straight from the jug of water because she could not bear to waste time pouring out another glass. 
Source: Hot Ones
Apart from Chrissy Teigen and Eric Andre, Hot Ones has featured a rake of celebrities who have all been pretty entertaining, from Jeff Goldblum, Michael Cera, Whiz Khalifa and Post Malone to DJ Khaled (who had to drop out after three wings because he couldn't handle it). If you're looking for something to consume a few hours of your time on Youtube, you should probably check it out. 
DailyEdge is on Instagram!