LIBYAN LEADER MUAMMAR Gaddafi may not have many friends in the western world right now but in the past his family have not been shy in courting the world of celebrity.
In light of events in Libya, pop stars such as Beyoncé, Mariah Carey, and Usher are facing calls to hand back the millions of dollars they earned from performing in front of Gaddafi family members at private concerts, according to Rolling Stone.
Singer Carey is said to have banked a whopping $1 million (€725,000) for a lavish New Year's Eve party hosted by Gaddafi's son Muatassim in the Caribbean in 2008.
Beyonce and Usher performed at the same party a year later. All three are now being pressured to hand back the money.
There are other reports that rapper Jay Z and singer Lionel Richie have also performed for the music loving Gaddafi family members.
Perhaps those stars that are dithering should take a leaf out of Nelly Furtado's book.
The singer told her followers on Twitter that she will donate the $1 million she received for performing at a private concert in Italy four years to charity: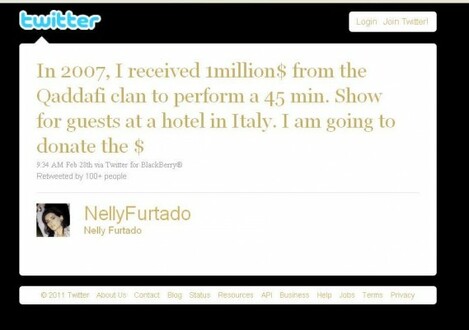 The New York Times reported last week on the Gaddafi family's football connections.
They are said to own a considerable stake in one of Italy's most successful club's Juventus.
Meanwhile, son Saadi Gaddafi trained with Paul Gascoigne, aka Gazza, in the 1990s and subsequently believed he was so good he could play in Italy's top flight.
He signed for Perugia in 2003 but failed a drugs test and was banned, later playing only a few minutes in Serie A.
He has most recently been attempting to get Saudi clerics to condemn the uprising in Libya but without success.