IF YOU LIKE your fruit (and even if you don't, it's good for you, so listen up!) then you will love this new product, it's called a 'Papple'.
What's that? Well it's a new variety of pear that's disguised as an apple.
It looks and tastes just like an apple but the skin and texture is like that of a pear, and according the the retailer stocking it, it's a member of the pear family.
"This is one of the most exciting new varieties of fruit we have seen for several years," said a keen Shazad Rehman, the fruit expert at Marks and Spencer.
"We know our customers like to try new and interesting fruit and we hope this will be something they will really enjoy," he added.
As excited and astounded as you will be at discovering that M&S has its own fruit experts, you'll be even more excited to know that these new fruity delights will be available at shops on Dublin's Mary Street, Grafton Street, Dundrum, Liffey Valley, Blackrock and in Cork city.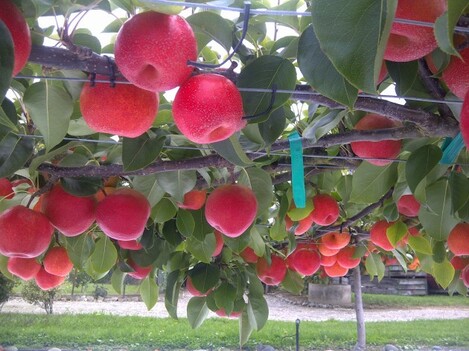 The price? A cool €1.49.
Now here's the science bit: the papples are the result of a cross between a European pear variety and an Asian Blushed pear.
Growers took the best Asian pears – famous for their jucieness and texture – and bred them with European pears – which are said to have the best flavour profiles – with the resulting 'T109′ to give its official name.
T109 is currently grown in New Zealand with M&S hoping that it will be able to grow the pear or is it apple, or maybe just papple in the UK from around 2015.
Eating fruit will never be the same again.