CELEBRITIES ARE VERY talented people, for the most part. When it comes to flags, however, there's a blind spot in their knowledge.
James McVey and Emily Atak were tasked with doing the Dingo Dollar challenge in last night's episode, which involved zip-lining out to flags and matching them with the named country.
Valiantly, James sent Emily out on the wire to grab the Irish flag, "the green, white and orange one", as he said himself.
Except, the flag the show used was the one for the Ivory Coast, not Ireland.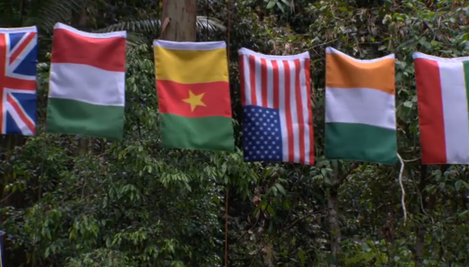 Source: ITV
(Or, at the very least it was the Irish flag, and they hung the bloody thing upside down.) Either way, bit of an oversight.
Disappointed? Yes. Surprised? Absolutely not, TBH.
As always, the devil works hard but Twitter works harder.
Green, white and orange lads. It's not that hard.
DailyEdge is on Instagram!