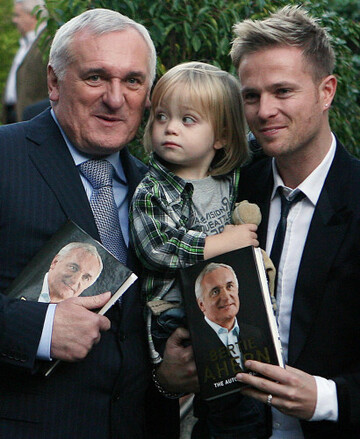 Source: PA Archive/PA Images
THIS YEAR, WESTLIFE star Nicky Byrne and his wife Georgina Ahern celebrated 15 years since their 2003 wedding in France.
Naturally this was a huge deal at the time. One of Ireland's biggest pop-stars was about to marry the daughter of Taoiseach Bertie Ahern. Hello! had paid €850,000 for exclusive coverage of the event and RTÉ News called it an "irresistible blend of showbiz and politics." It was peak Celtic Tiger.
Source: Barry Batchelor
In RTÉ Archive footage, locals could be heard booing and jeering Nicky and Georgina as they arrived to the venue. Possibly for bringing their pals into the town of Gallardon dressed like this.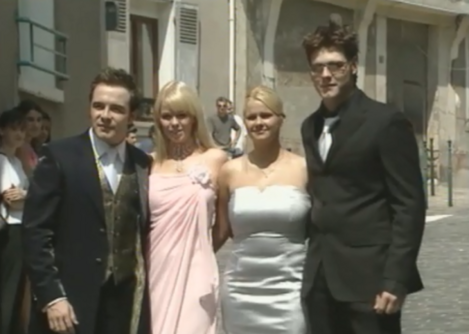 Shane and Gillian Filan alongside Brian McFadden and Kerry Katona. Source: RTÉ
Ronan Keating and his ex-wife Yvonne Connolly Source: RTÉ
There were over 400 guests at the event, who were shipped over to France along with a heap of Irish ingredients and supplies such as 30kg of Dunn's smoked salmon from Dublin, a load of Guinness, Jameson and Boru Vodka.
Of the 400 guests, Bertie Ahern brought a few pals along including an unnamed councillor and a TD, according to an interview Nicky's agent Joanne Byrne gave to the Irish Times back in 2003.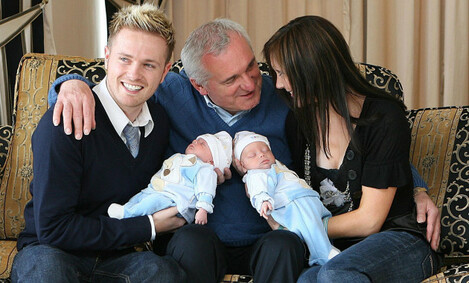 Source: PA Archive/PA Images
Nicky's guests included important figures from Irish pop music in 2003, like Nadine Coyle who sang 'Fields of Gold' at the ceremony. Here's the RTÉ News report from after the wedding, which features clips of people going into Easons just to flick through Hello! magazine to get a glimpse of the wedding.
Source: Shnickyfairy/YouTube
The closest we have gotten to seeing so many Irish people invested in a celebrity wedding over the 15 years since Nicky and Georgina's ceremony was when So Sue Me tied the knot last year.
DailyEdge is on Instagram!