IF YOU'RE AS taken with the internet as we are, you may have heard some rumblings from within the Irish world of blogging and influencers this weekend.
'Influencer' is defined as "a person who has the power to influence many people, through social media or traditional media". The most famous Irish example would Suzanne Jackson (or SoSueMe), who gained popularity through her blog.
The number of influencers in Ireland has increased dramatically over the last 5 years, with modelling agency Andrea Roche now representing a whole host of them professionally.
This weekend, several influencers – including SoSueMe, Joanne Larby (The Makeup Fairy) and FacesByGrace (Grace Mongey) took to their respective platforms to talk about bullying and announce that they would be forming an alliance and a campaign against online bullying.
But what prompted it? Here's a brief rundown of events so far.
First, taking it waaaaaaaaaay back – there was a Boards.ie thread a few years back where people discussed Irish bloggers and influencers at length. It's believed the forum was eventually shut down due to the context of the discussions and comments.
Fast forward to present day, a sub-Reddit on Reddit (obviously) has been slowly gaining traction with a similar objective – being a place where people can discuss bloggers and influencers openly. A lot of the discussion has focused on how some influencers can over-edit and manipulate their photos and the responsibility they have in being truthful to their younger  followers. (As it's gotten to a point where it is now out-of-hand, we're not linking directly to it).
On the back of that, an anonymous Instagram account  – called @bullshitcallerouter – was set up. The account posts side-by-side pictures of bloggers and influencers – often one they'd taken themselves versus a candid shot – to highlight the level of photoshopping that takes place.
Seemingly, in response to this, blogger Louise Cooney tweeted: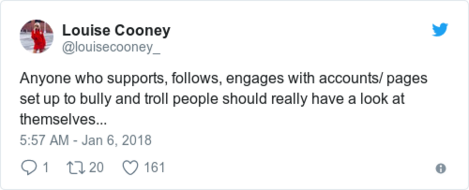 However, she has since denied on Twitter and on her Instagram Story – where she has 89,000 followers – that her comments were not about the account mentioned above and that "her point has been lost".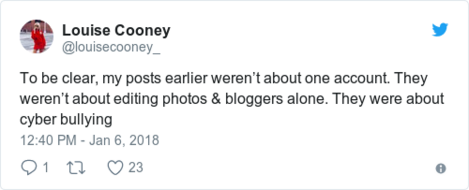 On the back of this, Sue reposted Louise's original tweet.
Suzanne said: "Agreed! Sad sad individuals."
She then followed up by highlighting on her Insta Story that she'd simply had enough.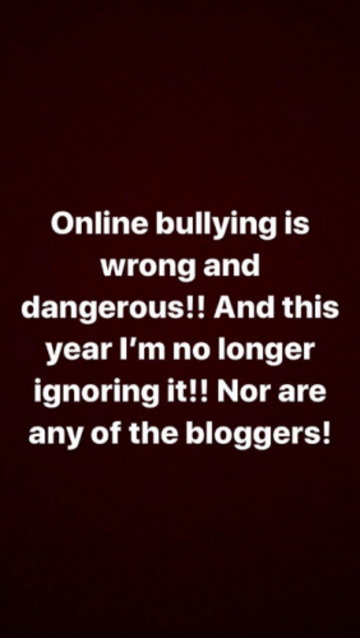 Source: SoSueMe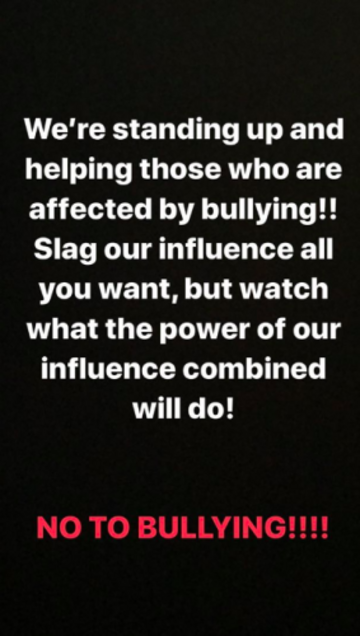 Source: SoSueMe
As previously said, she was backed by fellow bloggers and influencers Grace Mongey, Joanne Larby (The Makeup Fairy), Terrie McEvoy, Rosie Connolly and others, who reposted the snaps to their stories respectively.
However Rosie Connolly, who has 163,000 followers, has since rowed back on her comments on her Snapchat story, saying that her comments were about "online bullying in general" and that she was against Photoshopping images and "creating a false reality".
Illustrator and Twitter user @dublin_girlo also posted about the backlash from all sides.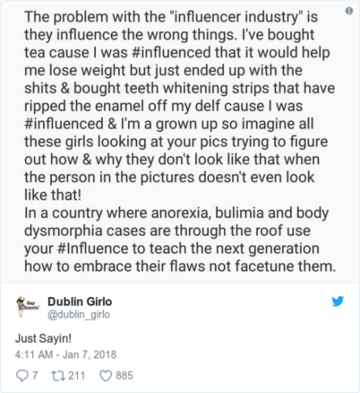 Joanne Larby – who has frequently been the main influencer discussed within these forums – posted this photo (which has now been deleted) to her 146,000 followers on Instagram today.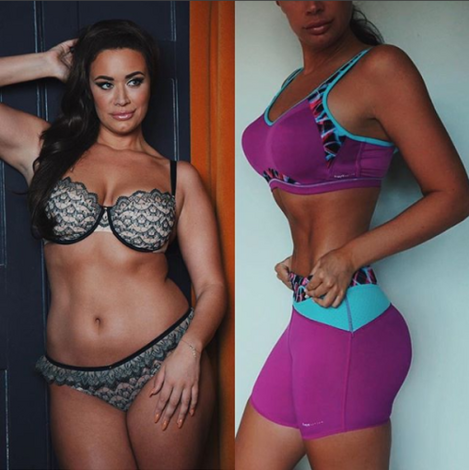 I've spent the past two days bawling my eyes out over what's going on online over the past few days. I'm NOT talking about fake accounts containing unflattering pictures or even ones stretched to make me look bigger than I am. I'm talking about daily abuse and harassment on forums discussing my private life, family, and break up, people following every single thing I say and do and picking it apart. Enough is enough.
Whatever excuse you have for doing it know that it's not acceptable and if I was a younger version of myself this would push me over the edge. I'm just a girl who has a slightly abnormal job in the public eye who works harder than my Instagram feed may show. I run a business. I have felt like the fat girl, hell I was a size 14-16 above (and there's NOTHING wrong with that size), I've battled with so many insecurities over the years and still do. I have binged because I was depressed, I've starved myself to look smaller, I've become insecure as a result of emotional abuse in a relationship, and I've felt a pressure to edit my pictures over the years when I wasn't losing weight fast enough. I'm just a normal woman like YOU!
Please don't ever look at my images and think I'm perfect. I spent two years learning to love working out in a bid to transform my mind and body and now at a really healthy size 10 it's still not enough. And so I want to use my voice this year to make even a tiny change and stand up to online bullying. No matter what you do for a living this should not be part and parcel of the job, not to this extent. This is not the price of 'fame', this is happening people all over the world to varying degrees. You do not have to suffer alone."
Prior to this, Joanne uploaded a video of her unedited torso on her Snapchat story.
If you have been affected by the above piece:
The Samaritans
www.samaritans.org
Free phone: 116 123
Email: jo@samaritans.org
Aware (Depression, Bi-Polar Disorder & Anxiety)
www.aware.ie
Tel: 1800 80 48 48
Email: supportmail@aware.ie
Pieta House (Suicide & Self-harm)
National Suicide Helpline (Pieta House) 1800 247 247
www.pieta.ie
Tel: 01 623 5606
Turn2Me.org (Online one to one or group counselling)
Grow (Mental Health support and Recovery)
www.grow.ie
Tel: 1890 474 474
Bodywhys (Eating Disorders Associations of Ireland)
www.bodywhys.ie
1890 200 444
DailyEdge is on Instagram!