1. When actress Joan Collins started passing on messages to Independent TD Joan Collins.
2. The time Roisin Shortall retweeted a Rubber Bandits tweet and wrote, "Yurt!"
Not something we ever thought we'd see from a sitting TD if we're being honest.
Source: Roisin Shortall/Twitter
3. When Fianna Fáil's Michael McGrath tried his hardest to put an end to to the neverending Katy storyline on Fair City.
4. When Pearse Doherty told The Guardian to keep their grubby mitts off Donegal and demanded the swift and safe return of the six counties.
Source: Pearse Doherty/Twitter
5. When Eoin Ó Broin subtly laid into Senator Michelle Mulherin for demanding All Ireland tickets
6. When Ruth Coppinger shared this screenshot of her sarcastically thanking the state on behalf of all "ladies"
Thanks a million.
7. When Alan Kelly represented the "seven stages of leadership" with seven empty pints.
8. The time Mick Wallace posed for a selfie at the Euros with the man who arrested him in Shannon.
9. When Leo Varadkar instructed Willie O'Dea to "chill" after Willie got particularly exercised about Leo Varadkar hosting a radio show on Radio 1
Ah chill Willie.
- our potential future Taoiseach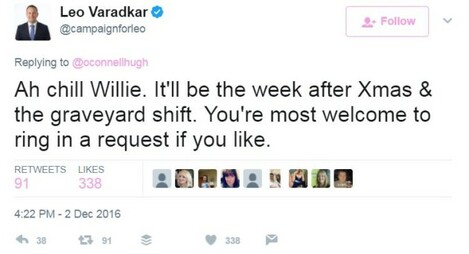 Source: Leo Varadkar/Twitter
DailyEdge is on Snapchat! Tap the button below to add!