YESTERDAY, IRELAND AND Sweden drew 1-1 in their opening match at Euro 2016.
Though we didn't walk away with three points, we managed to forge a lifelong friendship with the nation of Sweden. Seriously: Ireland <3 Sweden.
1. After all, what other nations would perform freaky dances for each other?
(If you can't view the video, please click here.)
2. Look at this violent behaviour
Oh, what's that? They're just literally bouncing around and singing together? Classic Ireland and Sweden.
Source: Imgur
3. You can bet your bottom dollar that there were Abba singalongs
4. SO MUCH ABBA.
Having the time of their lives, they were.
(If you can't view the video, please click here.) 
5. And when they weren't singing Abba, they were busy playing soccer with each other
BEST BUDDIES.
6. I mean, really, look at this
They're providing first aid to each other! Can't cope.
7. Sure, it sometimes turned into a bit of a friendly rivalry…
But it was all good-natured.
Look at this Swedish dad. Not a notion what's going on.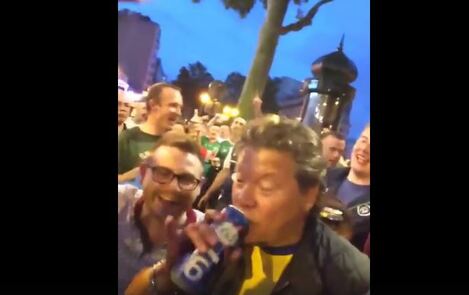 Source: HeyBro.ie
8. Honestly, we're putting everyone else to shame
9. GO ON IRELAND!
DailyEdge is on Snapchat! Tap the button below to add!