YOU HEARD ABOUT the woman who had her hometown name blocked on Facebook, right? The story of Anne Marie Kennedy and her bid to have her home village of Effin, Co Limerick recognised by the social networking site spread as far afield as The Washington Post and The Guardian at the start of this month.
Facebook had refused to recognise the name, which its automated response reported to be "offensive", and Kennedy is still fighting to have the name added to her profile page on the site.
However, Effin is not the only town in that small pocket of Co Limerick with a name that might raise an eyebrow. A local has emailed TheJournal.ie to point out that Nicker, Freemount and Meanus (add a space after 'Me' if you're feeling naughty) have all prompted funny looks from non-residents over the years. However, all three are recognised by Facebook and can be recorded as one's hometown on a personal profile page.
It is worth noting however that just six miles away from Effin lies a tiny hamlet called Bottomstown. This placename is also blocked by Facebook.
You can see Bottomstown (marked), Meanus (at 11 o'clock) and Effin (at 7 o'clock) in close proximity on this Google map: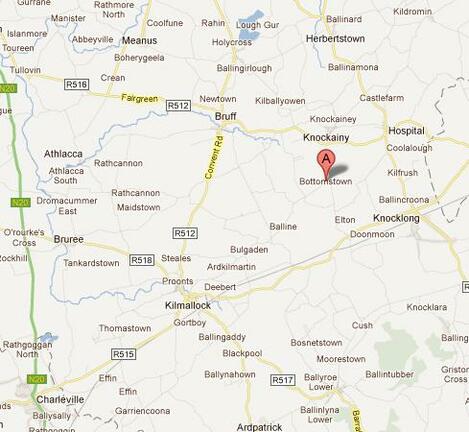 Effin, as it turns out, is named after a local saint St Eimhin.
The woman who raised awareness of the Effin block told The Limerick Leader this week that she is shocked by how her campaign took off. She said Effin had made it into TIME magazine, Sky News and the BBC World Service and that her daughter told her "Twitter was hopping" and that "Mam, you are gone viral".
As it turns out though, Facebook is arguing that the reason Effin can't be recognised is because it is officially a parish and not a village. Silicon Republic says that this means that Facebook's mapping system technically can't recognise it. This might be a more reasonable explanation as to why Effin can't get on Facebook, but Muff, Co Donegal and its Muff Diving School can…