WHAT'S JJ ABRAMS up to now?
The director of Star Trek and creator of Lost has always been a bit elusive in terms of his work, and now he's released a cryptic new trailer which has sent fans into a frenzy.
Abrams and his production company Bad Robot, released the trailer 'Stranger' without so much as a hint to what it could be about.
The video shows a man emerging from water, who is eventually revealed to have sewn lips. The clip doesn't elaborate any further, simply closing with a simple message: 'soon'.
YouTube/Bad Robot Productions
After the viral marketing of Cloverfield and Super 8, it's no surprise that Abrams would release something like this.
However, a few theories have been thrown around, including the possibility that it's a preview of his upcoming NBC series Believe. It would certainly fit in to the narrative of a girl with supernatural abilities being protected by a death row inmate who escapes from prison to fight evil spirits.
Another possibility is that it's the book trailer for his novel S., due to be released later this year. S could indeed stand for stranger, with publisher Mulholland Books saying that it is
a multi-layered literary puzzle of love and adventure. At its core, we have a book of mysterious provenance. In the margins, another tale unfolds: hand-scribbled notes, questions, and confrontations between two readers. Between the pages, online, and in the real world, you'll find evidence of their interaction, ephemera that brings this tale vividly to life.
Twitter has a few theories: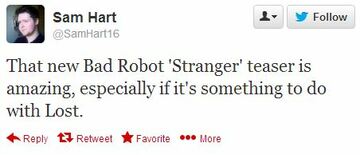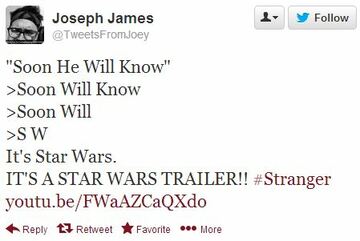 Whatever it is, it's working.